Sequoia National Forest to hold OHV Grant Application Open House in Porterville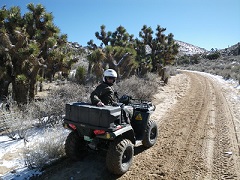 PORTERVILLE, Calif., Feb. 4, 2020 – You can help shape the future of Off-Highway Vehicle (OHV) use within the Sequoia National Forest and the Bureau of Land Management Bakersfield Field Office jurisdiction. 
The Forest Service and Bureau of Land Management are requesting public input for the California 2020 OHV Grants and Cooperative Agreements Program applications. Part of the grant process is gathering input or project ideas from individuals and organizations for the agencies to consider including in its submission. This feedback will be considered in the development of the preliminary grant applications and as final applications are prepared. 
Thursday, Feb. 13, the Forest Service and Bureau of Land Management will host an open house at the Sequoia National Forest Headquarters located at 1835 S. Newcomb St. in Porterville, Calif, between 6 and 8 p.m. to allow for public review and comments on the preliminary 2020 grant application(s). 
The Forest Service and Bureau of Land Management will consider incorporating feedback from the meeting into the grant applications, enabling continued management of a sustainable program that benefits the users and protects resources. 
2020 Grant Cycle – Important Dates
Monday, Jan. 13: Grant application process begins. Application materials available on the OHMVR Division's website. 
Monday, Mar. 2: Preliminary applications are due by 5 p.m.
Tuesday, Mar. 3 to Monday, May 4: Public review and comment period 
Monday, Jun. 1: Final applications are due
June and July: OHMVR Division review of final applications
Monday, Aug. 3: Application Results - Intent to Award posted on the OHMVR Division's websitehttp://www.ohv.parks.ca.gov/
Monday, Aug. 3 to Wednesday, Sept. 2: Thirty (30) calendar day appeal period
Monday, Sept. 3: Final awards posted on the OHMVR Division's website upon resolution of any appeals
The Forest Service application will focus on maintaining off-road vehicle routes, facilities, signage, law enforcement, and education. The OHMVR and Sequoia National Forest have maintained a successful partnership for more than 25 years. 
The BLM application will focus on providing law enforcement support, and continued maintenance and development of off-road opportunities in our designated OHV areas.
For more information or to provide your comments through other means, please contact Sequoia National Forest Recreation Officer, Karen Miller, at 559-784-1500 or kgmiller@fs.fed.us , or BLM Bakersfield Field Office Outdoor Recreation Planner Brie Chartier, at 661-391-6000 or BLM_CA_Web_BK@blm.gov.
---
The BLM manages more than 245 million acres of public land located primarily in 12 western states, including Alaska, on behalf of the American people. The BLM also administers 700 million acres of sub-surface mineral estate throughout the nation. Our mission is to sustain the health, diversity, and productivity of America's public lands for the use and enjoyment of present and future generations.
Organization
Bureau of Land Management
Office
Bakersfield Field Office
Contacts
Name:
Alicia Embrey, US Forest Service
Related Content