BLM seeks public input on Alabama Hills Management Plan
Organization
Bureau of Land Management
BLM Office:
Bishop Field Office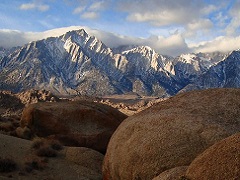 BISHOP, Calif. - The Bureau of Land Management Bishop Field Office is seeking public input on the development of a management plan for the Alabama Hills, near Lone Pine in Inyo County. The 30-day public scoping period for the proposed management plan begins on Thursday, Nov. 21, and ends on Monday, Dec. 23.
The BLM will provide information and accept written comments on the future management of public lands in the Alabama Hills during public scoping workshops to be held from 5 to 8 p.m. at the following locations:
•     Monday, Dec. 9, Statham Hall, 138 N. Jackson St., Lone Pine
•     Tuesday, Dec. 10, BLM Bishop Field Office, 351 Pacu Ln., Bishop (next to the Department of Motor Vehicles)
The workshops will begin with a brief informational presentation, followed by an opportunity for participants to provide written comments and share their ideas about specific uses, resource values and future management strategies for the area.
Once approved, the management plan furthers Secretary's Order 3366, Increasing Recreation Opportunities on Lands and Waters Managed by the U.S. Department of the Interior and Secretary's Order 3347, Conservation Stewardship and Outdoor Recreation.
"For years, we have worked with the Alabama Hills Stewardship Group, the local tribe and the Lone Pine community to promote a shared-stewardship approach towards management of the Hills," says Bishop Field Manager Steve Nelson. "We look forward to continued public engagement as we build upon this community-based stakeholder effort and begin to develop a management plan for this magnificent area."
Set between the jagged peaks of the Sierra Nevada and the Owens Valley, the Alabama Hills are a unique formation of rounded rocks and eroded hills encompassing nearly 30,000 acres of public land that is well known for its mix of scenic, cultural, geological, educational, biological, historical, recreational, cinematographic and scientific values. In March, the John D. Dingell, Jr. Conservation, Management and Recreation Act designated 18,610 acres in the Alabama Hills as a National Scenic Area.
Information related to this planning effort can be found on the ePlanning website at https://bit.ly/2Owt8yd. Written comments may be submitted electronically at blm_ca_alabama_hills_planning@blm.gov; by fax: 760-872-5055; or by mail to: BLM Bishop Field Office, Attn: Alabama Hills Management Plan, 351 Pacu Lane, Suite 100, Bishop, CA  93514. For specific questions, please call Bishop Field Office Supervisory Resource Management Specialist Sherri Lisius at 760-872-5000.
Before including addresses, phone numbers, email addresses or other personal identifying information in a comment, commenters should be aware that the entire comment, including personal identifying information, could be made publicly available at any time. While the public may ask the BLM to withhold personal identifying information from public review, the BLM cannot guarantee that it will be able to do so.
---
The BLM manages more than 245 million acres of public land located primarily in 12 western states, including Alaska, on behalf of the American people. The BLM also administers 700 million acres of sub-surface mineral estate throughout the nation. Our mission is to sustain the health, diversity, and productivity of America's public lands for the use and enjoyment of present and future generations.