BLM offers Point Arena-Stornetta tours and coastal hikes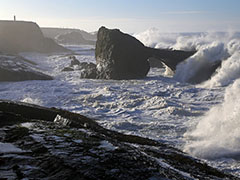 UKIAH, Calif. – Join the Bureau of Land Management for a series of guided nature hikes along the coastal trail overlooking the Pacific Ocean at the Point Arena-Stornetta Unit of the California Coastal National Monument this fall.
As stewards, the BLM manages a variety of recreation and visitor services across the nation, providing unique outdoor opportunities. The tours will focus on exploring the natural world, wildlife, native and invasive plants and teaching participants what they can do to protect habitat for endangered species, including the threatened western snowy plover and coho salmon, and endangered California red-legged frog, Point Arena mountain beaver and Behren's silver spot butterfly.
The "Coastal Explorers" talk will be an easy, 2-mile guided hike to be held Sept. 16, Oct. 7 and Nov. 4. Anyone interested in the one-hour hike should meet at 1 p.m. at the Bend in the Road footpath access at the Point Arena-Stornetta Unit. The tour on Sept. 16 will also include a tour of the Mendocino Field Station.
If you want a bit more of a challenge, join the "Hike the Coast," which is a moderately difficult, 8-mile guided hike to be held Oct. 21 and Nov. 18. If interested in the three-hour hike, meet at 10 a.m. at the City Hall footpath access of the Point Arena-Stornetta Unit.
Hikes are free and open to the public. Please register by calling Emily Cheung at the Ukiah Field Office at 707-468-4000. Participants are encouraged to bring water and wear appropriate shoes and clothing. Please contact the Ukiah Field Office to arrange for reasonable accommodations to participate.
The Point Arena-Stornetta Unit, in Mendocino County, Calif., encompasses a windswept landscape of dramatic coastal beauty and significant scientific importance. Its setting includes striking bluffs that in a few locations are pierced by blowholes, where rising tides force gusts of salt-laced air and occasional geysers of ocean water, as well as the southernmost natural example of a shore pine forest. The public lands are a haven for several types of seals, squadrons of brown pelicans are a frequent sight, and here is where the 44-mile Garcia River flows into the Pacific Ocean.
---
The BLM manages more than 245 million acres of public land located primarily in 12 western states, including Alaska, on behalf of the American people. The BLM also administers 700 million acres of sub-surface mineral estate throughout the nation. Our mission is to sustain the health, diversity, and productivity of America's public lands for the use and enjoyment of present and future generations.
Organization
BLM California State Office
Office
Central California District Office
Contacts
Related Content