BLM to offer halter-trained burros for adoption at UC Davis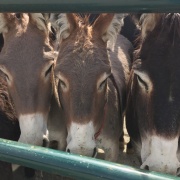 DAVIS, Calif. – Halter-trained burros will be available for public adoption Sunday, Oct. 28, in conjunction with the Donkey Welfare Symposium at the University of California, Davis.  Registration is at 11 a.m. and adoptions start at noon at the Animal Science Barns, 448 La Rue Road, Davis.
The Bureau of Land Management will offer up to a dozen wild burros, all in various stages of a halter training process.  The BLM will offer the animals for a $125 adoption fee.  
To qualify, adopters must be 18 years old and have no animal abuse convictions.  Adopters must provide corrals with at least 400 square feet of space.  Corrals must be enclosed by a four-and-a-half-foot fence built of pipe or boards, and include a two-sided, roofed shelter.
"Burros are great companion animals and useful for packing and limited riding," said Amy Dumas, manager of the BLM-California Wild Horse and Burro Program.  "Some adopters even use them for protecting livestock from predators."
The burros are from public rangeland herds that have grown too large.  The BLM removed the animals from the range to sustain healthy populations in balance with other range users and available forage and water.
The symposium is an annual event attended by donkey enthusiasts, researchers and veterinarians from around the world.  It runs Friday, Oct. 26, through Sunday, Oct. 28.  It requires registration and fees. There is no fee to attend the adoption event.   Information is available at www.donkeywelfaresymposium.homestead.com.
---
The BLM manages more than 245 million acres of public land located primarily in 12 western states, including Alaska, on behalf of the American people. The BLM also administers 700 million acres of sub-surface mineral estate throughout the nation. Our mission is to sustain the health, diversity, and productivity of America's public lands for the use and enjoyment of present and future generations.
Organization
Bureau of Land Management
Office
Central California District Office
Contacts
Related Content