BLM Junction City Campground reopened for public use
BLM Office:
Redding Field Office
Region:
California
Northern California DO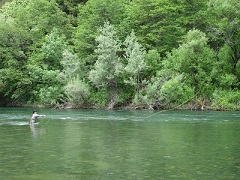 REDDING, Calif. –  The Bureau of Land Management has reopened the Junction City Campground west of Redding after a short temporary closure to the public while the facility was used as a base camp for firefighters working on the nearby Hobo Fire on the Shasta-Trinity National Forest. The fire has been contained after burning about 400 acres.
The campground, about a mile-and-a-half west of Junction City on State Route 299, offers 22 campsites suitable for tents, trailers and RVs. It offers convenient access to the Trinity River and excellent opportunities for fishing, kayaking, swimming and gold panning.
The BLM offers additional Trinity River camping experiences and river access at the Steiner Flat, Douglas City and Steel Bridge campgrounds, all along State Highway 299 west of Redding. Information is available by visiting www.blm.gov/visit/trinity-wild-and-scenic-river.
The BLM reminds visitors that campfires and other uses of open flame, including barbecues and camp stoves, are not currently allowed because of high fire dangers, including within campgrounds. Details on current fire restrictions on BLM lands managed by the Redding Field Office can be found online at https://go.usa.gov/xGKQf.
All BLM-managed public lands in northern California are open to public access and open to hunting during seasons established and managed by the state of California.
---
The BLM manages more than 245 million acres of public land located primarily in 12 western states, including Alaska, on behalf of the American people. The BLM also administers 700 million acres of sub-surface mineral estate throughout the nation. Our mission is to sustain the health, diversity, and productivity of America's public lands for the use and enjoyment of present and future generations.