BLM Eastern States announces upcoming 2018 wild horse and burro events
Organization
Bureau of Land Management
BLM Office:
Eastern States State Office
WASHINGTON—The Bureau of Land Management Eastern States wild horse and burro program supports the BLM's commitment to finding good homes for healthy wild horses and burros by placing hundreds of these animals into homes every year. BLM Eastern States has 26 events in 18 states coming up this year, including one Extreme Mustang Makeover event in Lexington, Kentucky. Eastern States also has scheduled five online events at www.blm.gov/adoptahorse and more are likely to be scheduled later in the year on the BLM's forthcoming wild horse and burro "Online Corral" web site.
Each event offers the public an opportunity to bring home a wild horse or burro through adoption or purchase. The most current event schedule is provided below. (Note: Schedule is subject to change. More site-specific details and updates on upcoming events can be found at the following link: www.blm.gov/media/public-room/eastern-states.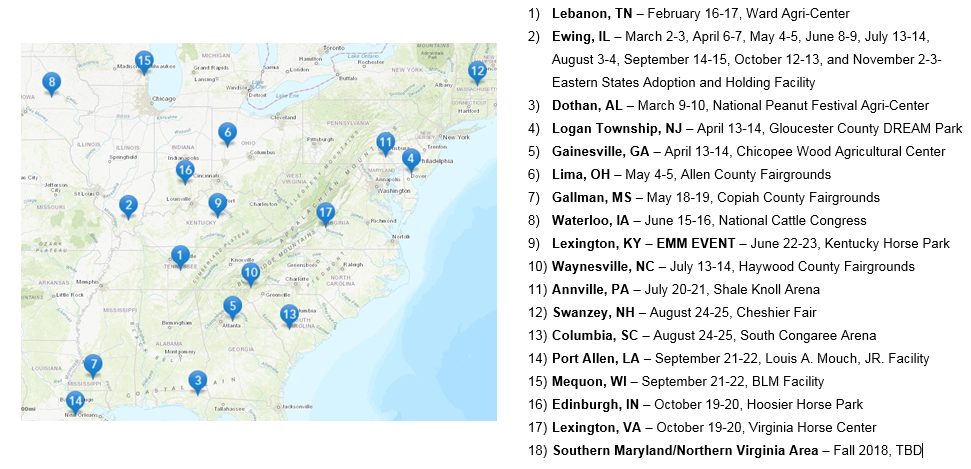 For information on other wild horse and burro events throughout the United States, visit the following link: www.blm.gov/programs/wild-horse-and-burro/adoption-and-sales/events.
The BLM wild horse and burro program serves American families by providing opportunities in their local communities to adopt or purchase one of America's Living Legends gathered from the Western rangelands. Since 1971, the BLM Eastern States has placed over 80,000 animals into private care in the East. For more information on the wild horse and burro program, including requirements for adopting or purchasing a horse or burro and where to find an event location near you, visit www.blm.gov/programs/wild-horse-and-burro.
---
The BLM manages more than 245 million acres of public land located primarily in 12 western states, including Alaska, on behalf of the American people. The BLM also administers 700 million acres of sub-surface mineral estate throughout the nation. Our mission is to sustain the health, diversity, and productivity of America's public lands for the use and enjoyment of present and future generations.