BLM Central California District accepting nominations for Resource Advisory Councils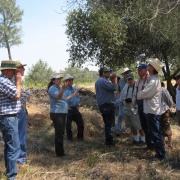 EL DORADO HILLS, Calif. – The Bureau of Land Management Central California District will accept nominations through Wednesday, Oct. 31, for 13 positions awaiting appointment on both its citizen-based Central California Resource Advisory Council and the Carrizo Plain National Monument Advisory Committee.
The following positions on the Central California Resource Advisory Council are awaiting appointment by the Secretary of the Interior: four positions in Category 1, two positions in Category 2 and two positions in Category 3.
Members from each category must represent one of the following groups:
Category 1: Public land ranchers, organizations associated with energy and mineral development, commercial timber industry, transportation or rights-of-way, off-highway vehicle use or commercial recreation.
Category 2: Representatives of nationally or regionally recognized environmental organizations, archaeological and historical organizations, dispersed recreation activities or wild horse and burro organizations.
Category 3: Representatives of state, county or local elected office; representatives and employees of a state agency responsible for the management of natural resources; representatives of Indian tribes within or adjacent to the area for which the RAC is organized; representatives and employees of academic institutions who are involved in natural sciences or the public-at-large.
There are also five positions awaiting appointment on the Carrizo Plain National Monument Advisory Committee, which requires members to be representatives of the San Luis Obispo County Board of Supervisors, Kern County Board of Supervisors, Carrizo Native American Advisory Committee, Central California Resource Advisory Council, those authorized to graze livestock within the national monument and those representing the monument's purposes or other stakeholders.
Under BLM policy, applications will be accepted for each seat until confirmed by the Department of the Interior. If a person has previously applied, it is not necessary to reapply. Members for both boards serve 3-year terms.
An individual may self-nominate or nominate others to serve on a council. Nominees must be residents of California and will be reviewed on the basis of their training, education and knowledge of the Council's geographic area. Nominees should also demonstrate a commitment to consensus building and collaborative decision-making. A letter of reference must accompany all nominations from any represented interests or organizations, also a completed RAC application and any other information that speaks to the nominee's qualifications. Applications are available online at https://www.blm.gov/sites/blm.gov/files/GetInvolved_RACApplication.pdf.
Resource Advisory Councils (RACs) provide advice and recommendations for the BLM to consider on a range of resource and land management issues. Each Council consists of 10 to 12 members from diverse interests in local communities, and they assist in the development of committee recommendations that address public land management issues. RACs are critical in assisting the BLM in continuing to be a good neighbor in communities served. For more information, please contact Serena Baker at the phone number or email address listed above.
---
The BLM manages more than 245 million acres of public land located primarily in 12 western states, including Alaska, on behalf of the American people. The BLM also administers 700 million acres of sub-surface mineral estate throughout the nation. Our mission is to sustain the health, diversity, and productivity of America's public lands for the use and enjoyment of present and future generations.
Organization
Bureau of Land Management
Office
Central California District Office
Contacts