BLM approves US Gypsum Mine Expansion and Modernization Project
BLM Office:
El Centro Field Office
Region:
California
California Desert DO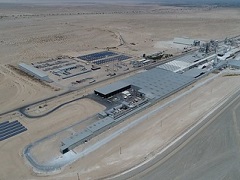 EL CENTRO, Calif. – The Bureau of Land Management has approved the expansion and modernization of the United States Gypsum mine located on approximately 40 acres of public lands in southwestern Imperial County.
The company's mining operation in Imperial County supports the Trump Administration's goals of strengthening local economies and creating local jobs. Over the life of the project, USG mine will secure more than 400 existing jobs and create an additional 140 jobs. USG estimates that it contributes $29 million annually to the local economy. Eighty-five percent of the gypsum mine is used for wallboard and other uses, such as cement and agriculture products.
"The U.S. Gypsum mine produces important resources that are essential for America's economy and allow us to become less dependent on unreliable foreign sources," said Acting Assistant Secretary of Land and Minerals Management Casey Hammond. "The Department of the Interior remains committed to supporting environmentally responsible mineral development on Federal lands."
The project includes the expansion of the existing gypsum mining operations, replacement of an existing waterline, and construction of two new waterlines, one with electrical service between the quarry and a new well on private lands east of the quarry, and the second between US Gypsum's Plaster City Processing Plant and Imperial Irrigation District's water canal to the east.
The BLM was the lead federal agency for the National Environmental Policy Act review. The U.S. Army Corps of Engineers and the U.S. Environmental Protection Agency were cooperating agencies in this review. The USACE will determine whether to issue a permit under Section 404 of the Clean Water Act. More information about this planning effort is available online at: https://bit.ly/2QiGK0m.   
---
The BLM manages more than 245 million acres of public land located primarily in 12 western states, including Alaska, on behalf of the American people. The BLM also administers 700 million acres of sub-surface mineral estate throughout the nation. Our mission is to sustain the health, diversity, and productivity of America's public lands for the use and enjoyment of present and future generations.