The BLM and California Department of Conservation partner to address potentially hazardous abandoned mine openings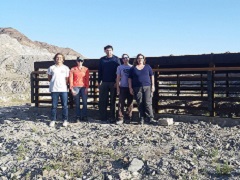 EL CENTRO, Calif. – The Bureau of Land Management and California Department of Conservation, Division of Mine Reclamation, are working together to close 65 potentially hazardous abandoned mine openings to protect desert visitors who are riding off-road vehicles, mountain biking or hiking.
The mines are in the Cargo Muchacho Mountains, southeast of the Salton Sea and east of the Imperial Sand Dunes, near the California border. The project is expected to be completed by early April.
Gold mining has occurred in the area since the Spanish prospected in the 1780s. Large-scale mining began in the 1880s and has continued with open pits and underground workings sporadically until present times. California's mining history, prior to enactment of mine permitting and reclamation requirements in 1975, has left the state with tens of thousands of legacy mines. Those mines can pose safety hazards to the public and wildlife and pose possible environmental contamination risks.
"This project, coordinated by the California Department of Conservation's Division of Mine Reclamation and BLM, provides another example of state and federal agencies actively partnering to protect the public and wildlife and responsibly remediate unsafe abandoned mine land features, such as open mine shafts, on California's public lands," said Cy Oggins, manager of the DMR's Abandoned Mine Lands Unit.
"In the winter, we find many public land users frequent the area. It is not a designated off-road play area, but many of the shafts are near open routes, which is why the BLM is interested in having the numerous 20- to 30-foot deep shafts remediated," said Carrie Sahagun, acting field manager of BLM's El Centro Field Office. "Our work with the California Department of Conservation will help protect the public, while balancing the BLM's multiple-use mission. The BLM believes partnerships and inclusion are vital to managing sustainable, working public lands."
The BLM prepared environmental documentation pursuant to the National Environmental Policy Act and the State Historic Preservation Office, including biological and cultural resource concerns. Drone reconnaissance was used to help document all the mining features.
Before backfilling starts, AMLU staff will ensure that wildlife – typically bats, owls and desert tortoise – are not utilizing shallow workings as habitat. Staff will go inside either to inspect the openings or utilize night vision to determine whether bats and owls are flying out and then covering the opening with chicken wire to exclude their return. Among the 65 features being closed, eight of them will require construction of metal cupolas and culvert gates to protect important bat habitat.
AMLU is a team of geologists, scientists and GIS professionals that assess hazards at abandoned mines and work to remediate public safety and environmental hazards posed by those mines in partnership with local, state and federal partners. AMLU has inventoried BLM- and state-managed public lands and completed nearly 50 remediation projects on abandoned mines in the Cargo Muchacho Mountains over the last decade.
For more information, visit https://www.conservation.ca.gov/dmr/abandoned_mine_lands.
---
The BLM manages more than 245 million acres of public land located primarily in 12 western states, including Alaska, on behalf of the American people. The BLM also administers 700 million acres of sub-surface mineral estate throughout the nation. Our mission is to sustain the health, diversity, and productivity of America's public lands for the use and enjoyment of present and future generations.
Organization
Bureau of Land Management
Office
El Centro Field Office
Contacts
Name:
Sarah K. Webster, BLM California State Office
Name:
Don Drysdale, CA Dept. of Conservation
Related Content