BLM is accepting applications for the Imperial Sand Dunes Recreational Area Subgroup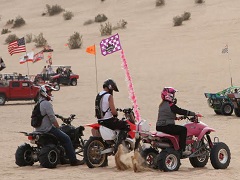 MORENO VALLEY, Calif. - The Bureau of Land Management's California Desert District Desert Advisory Council is now accepting applications for membership on the Imperial Sand Dunes Recreation Area (ISDRA) subgroup. Persons wishing to apply should submit their application by January 21. The application is available online.
Persons interested in serving on the subgroup should meet at least one of the following qualifications pertaining to the ISDRA in eastern Imperial County:
Be a user or stakeholder;
reside in a neighboring community;
or have knowledge of or experience with the ISDRA.
Particular expertise desired of subgroup members includes experience with California off-highway vehicle (OHV) interests, Arizona OHV interests, local government, commercial filming, biological or natural history scientific expertise, or residence in a neighboring community.
All members of the DAC ISDRA Subgroup serve three-year terms without salary and meet at least three times per year. All members of the subgroup will be required to disclose any direct or indirect interest in leases, licenses, permits, contracts, or claims that involve lands or resources administered by the BLM, or in any litigation related thereto. No subgroup member will participate in any matter in which the member has a direct interest. Selection and appointment of subgroup members is by the DAC with the concurrence of BLM's designated federal official.
Persons wishing to apply for consideration as a member of the ISDRA subgroup should submit their application to Neil Hamada, Assistant Field Manager, El Centro Field Office, 1661 S. 4th Street, El Centro, CA 92243.   
As stewards, the BLM manages public lands for the benefit of current and future generations, supporting conservation in pursuit of its multiple-use mission. For further information, contact the El Centro Field Office at 760-337-4400.
---
The BLM manages more than 245 million acres of public land located primarily in 12 western states, including Alaska, on behalf of the American people. The BLM also administers 700 million acres of sub-surface mineral estate throughout the nation. Our mission is to sustain the health, diversity, and productivity of America's public lands for the use and enjoyment of present and future generations.
Organization
Bureau of Land Management
Office
California Desert District Office
Contacts
Related Content