Our offices are located across the United States, and span many different climates and landscapes including alpine mountains, arid plains and deserts, deep canyons, beautiful rivers and lakes, and lush forests. Whether you are working out in the field or in the office on a project, you will play a critical part in sustaining nation's public lands for present and future generations.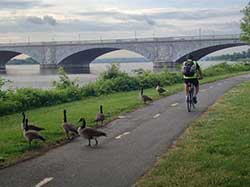 The Bureau of Land Management's national office includes employees in the Washington, D.C. headquarters, the National Operations Center in Denver and the National Training Center in Arizona. With a passion for natural resources and public service, the BLM's national office employees provide guidance to and support for 10,000+ employees and volunteers across the country. National careers -- from leadership positions to communication and legislative affairs to information and fiscal management -- advance the organization's mission to sustain the health and diversity of public lands for current and future generations.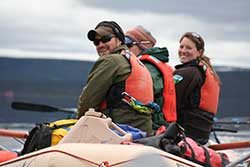 BLM Alaska's workforce consists of more than 600 employees managing about 72 million acres of public lands in Alaska. We are an efficient and adaptive organization, sustained by diverse and innovative employees who proudly and proactively manage resources on a landscape basis. Our work is enduring and responsible, and our stewardship facilitates multiple-use to bring value to local communities, the state, and the nation. BLM Alaska hosts a variety of careers such as administration, surveyor, legal, wildland fire, and the physical and biological sciences. BLM Alaska also offers employment opportunities through youth internships as well as Veteran and Alaska Native programs.
Working in Alaska is like no other place. Our state is the largest of the 50 states and has the tallest mountains in the U.S., more forested land and more rivers and lakes than any other state, but is one of the least populated. That translates to working in and managing majestic mountain ranges, vibrant wetlands, unique coastal marine environments and vast expanses of tundra. Meeting and working with people from different cultures and ways of life, to carry out the BLM's multiple use mission, is a unique experience for all who are proud to serve with BLM Alaska.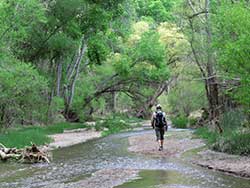 BLM Arizona employees are responsible for the management of public lands comprising 12.1 million surface acres and another 17.5 million subsurface acres within the state.  With a dynamic team of interdisciplinary professionals across four district offices, we are dedicated to upholding BLM's multiple use and sustained yield mandate.  From long term protection of natural and cultural resources in our National Conservation Lands, providing both leisurely and thrilling recreational experiences to the valor of our firefighters and law enforcement officers, our career paths are diverse and exciting.  Each employee shares a simple goal – to manage our resources on behalf of the American public through responsible stewardship and excellent customer service.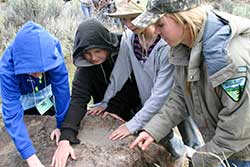 From managing recreational activities to conserving natural and cultural resources to facilitating energy development, the responsibilities of the Bureau of Land Management (BLM) in California are diverse and challenging. The BLM's vast stretches of public lands have the potential to make significant contributions to the Nation's energy portfolio, and BLM California plays a significant role as a facilitator in the production of solar, wind, and geothermal energy, contributing to a clean energy future and reducing greenhouse gas emissions. 
National Conservation Lands offer exceptional opportunities for recreation, solitude, wildlife viewing, exploring history and scientific research in 5 National Monuments, a National Conservation area, an Outstanding Natural Area, 8 Wild and Scenic Rivers, 3 National Historic Trails, a National Scenic Trail and numerous Wilderness Areas and Wilderness Study Areas.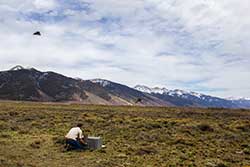 BLM Colorado's 660 employees play a vital role in the stewardship of Colorado's public lands as river rangers, surveyors, petroleum engineers and more! We work to actively attract candidates into natural resources and BLM careers while developing tomorrow's workforce. Now more than ever, creative and cooperative management is essential for the health and well-being of our public lands in Colorado and nationwide.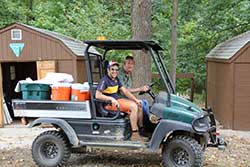 The BLM Eastern States manages over 15,000 surface acres of public land and approximately 30 million acres of mineral estate in the 31 states east of and bordering the Mississippi River. Our offices are located in Washington, D.C.; Milwaukee, Wisconsin; Jackson, Mississippi; Jupiter, Florida; Lorton, Virginia; and Rolla, Missouri. Public lands in the east contain some of the largest shale plays in the country, and the nation's oldest coal fields in Appalachia. Our energy program generates over 100 million dollars a year for the Federal treasury in new rentals, royalties, fees and bonuses. We are a cooperating agency with the U.S. Forest Service to analyze the potential for developing world-class hard rock deposits in northern Minnesota. Crews in the east manage the logistics of holding 22 satellite Wild Horse and Burro adoptions in 15 states, where approximately 30% of all animals adopted through the this program are placed. We also conduct competitive internet adoptions during the year where some horses have received bids of thousands of dollars. As the nation's surveyors, BLM ES Cadastral staff work with other agencies to maintain jurisdictional boundaries on the ground. Our General Land Office Branch is the custodian of more than nine million historic land title records dating back to 1787, all searchable by the public. Workforce succession planning enables our mission to manage public lands for sustainability. We are always looking for new employees who want to help communities engage with natural resources through youth outreach and environmental education.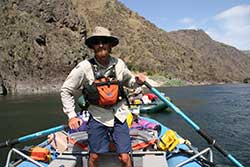 Are you looking for a career in public service that can be rewarding, challenging and fun? If you have a love of the outdoors or crave diversity in the workplace, a career with BLM in Idaho might be for you! We offer a variety of career paths to choose from throughout the nearly 12 million acres of public land we manage. With its rugged landscapes and pioneering Western spirit, the BLM in Idaho is an organization of public service-minded people, who bring different talents and perspectives to each office and to every project. Our employees are civil servants, with ethnic and cultural backgrounds as diverse as the American people we serve. Whether it's the vibrant cultural and recreational opportunities, the beautiful scenery, or the friendly people, Idaho is a great place to work, live and raise a family. Idaho BLM has 12 field offices and one State Office (located in Boise), providing plenty of opportunities to work for an agency managing the outstanding public lands and resources throughout Idaho.
BLM-Idaho District Career Information:
"I Am BLM" Career Spotlight: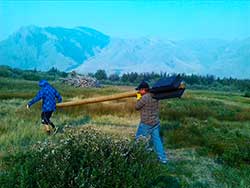 Lewis and Clark and the Corps of Discovery visited Montana and the Dakotas on the epic journey of the early 1800s. Their reports of the vast plains and breathtaking mountains encouraged others to follow and permanently settle here. Trappers, miners, railroaders, settlers, and either bought, claimed, or were given much of the land not set aside for Indian reservations or national forests. But about eight million acres of the public domain, or what we refer to as public lands, remain in these three states.
To manage these vast resources, our agency hires individuals in occupations such as range management, forestry, biology, civil and petroleum engineering, geology, hydrology, surveying, outdoor recreation planning, environmental planning and protection, archeology, wildfire management, and law enforcement. We also recruit administrative positions in such fields as budget, contracting, purchasing, human resources, realty, information technology, telecommunications, and clerical.
If you're looking for a job opportunity that promotes the health and productivity of public lands and you'd like to follow in the footsteps of Lewis and Clark, give us a try.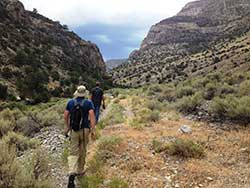 Live and Work and Play in Nevada. With 48 million acres of public land in Nevada - that's about 67 percent of the State's land base, there are lots of opportunities for multiple uses. Gold mining is huge along northeastern Nevada's Carlin Trend. The state is touted as the Saudi Arabia of solar energy. The word is out among recreationist that Nevada's wide open spaces are the place to go for outstanding skiing, mountain biking, hiking and off-road vehicle riding fun. Did you know Nevada has no state income tax? Also, Nevada is the most mountainous state in the union with more than 150 mountain ranges.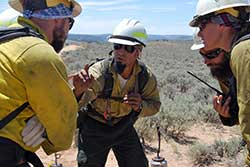 The BLM-New Mexico, Oklahoma, Texas, and Kansas organization utilizes about 700 employees to manage 13.5 million surface acres, and 42 million acres of Federal oil, natural gas, and mineral estate. We are the largest land manager in the State of New Mexico. Because of this, we require specialists to work in all disciplines to help us accomplish our multiple use and sustained yield goals. This organization hires chemists to run the Federal Helium Plant in Amarillo, Texas, cave specialists to explore and care for cave resources in southeastern New Mexico, wild horse and burro experts in Oklahoma, innovative GIS specialists to map our wonderful resources, petroleum technicians and engineers to help manage two of the most productive oil and gas basins in the country, and river rangers in northern New Mexico. These are just a few examples of the public land managers who care for the resources entrusted to them by the American people.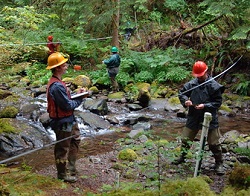 The BLM actively seeks a diverse pool of well-qualified job applicants. Our resource mission requires a broad array of technical, administrative and professional occupations. The workforce is made up of permanent, seasonal, trainee, temporary, and volunteer staff. In western Oregon, the BLM manages two million acres of forest in a checkerboard ownership pattern. These forests provide important habitat for many threatened and endangered fish and wildlife species and are considered some of the most productive forests in the world. The public land found in eastern Oregon is characterized by large swaths of basin and range topography. These dramatic, semi-arid landscapes provide a wide variety of recreation and commercial opportunities while also proving habitat for a diverse array of fish and wildlife species. In Washington, the BLM lands are found predominantly east of the Cascade Mountain Range but can be visited as far west as the San Juan Islands. Habitats include the maritime Puget Sound lowlands, the central Columbia Basin sagebrush regime, many riparian zones, and the coniferous forest and sub-alpine areas of northeast Washington.
BLM Utah professions range in diversity from wild horse and burro specialists and range technicians to archaeologists, paleontologists, and recreation planners.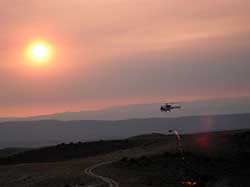 The Bureau of Land Management administers more than 17.5 million acres of public lands and 40.7 million acres of federal mineral estate in Wyoming.