Every day is Memorial Day on Burma Rim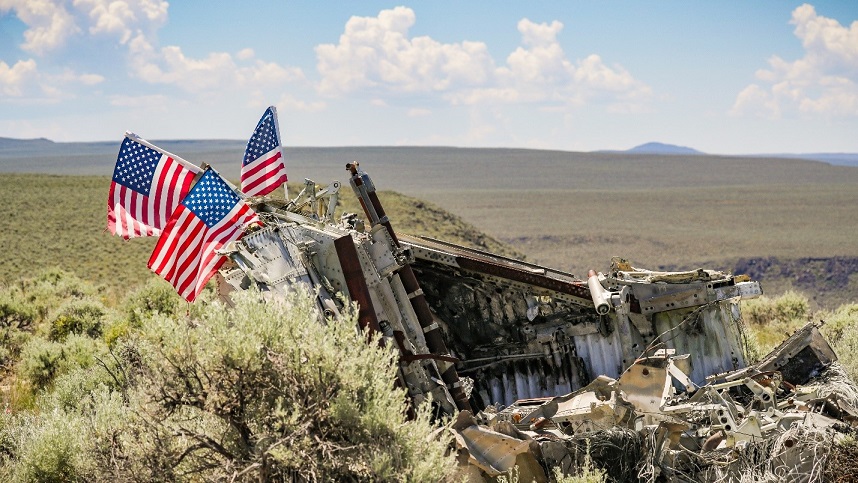 The vast sagebrush sea of Oregon's High Desert enchants and inspires, teasing revelation from deep within its silver-green majesty.
This allure belies the events that, thousands of years ago, forged the craggy volcanic rocks at its core. Outside forces occasionally revisit the land's cataclysmic birth, etching their mark and bursting open a portal to even broader human connection.
Burma Rim is one of these places.
There, on public land, miles from the nearest paved road leading to Christmas Valley, the remains of a Navy jet rest atop the edge of an ancient lakeshore escarpment, framed by sweeping vistas of sagebrush and rocky buttes.
A plaque near the aircraft's tail section honors the two naval aviators who died there.
The flutter of fading American flags, attached in memoriam to hulking sections of the decades-old aircraft wreckage, brings the only sound and motion to the static landscape.
Where fire and havoc once raged, solitude now provokes reflection. Reflection on service and sacrifice. And on life, love, and loss.
On Burma Rim, every day is Memorial Day.
---
Like Burma Rim itself, the U.S. Navy's Attack Squadron 128—known as VA-128—was also forged in fire.
Established in 1967 during the Vietnam War as a Fleet Replacement Squadron, it trained naval aviators, flight officers, and crewmen for assignment to fleet squadrons, where they would conduct wartime missions over Southeast Asia from aircraft carriers. In 1973, the squadron was based at Naval Air Station Whidbey Island in Washington State.
As the squadron's commanding officer would later report, 1973 was a year of transition for the unit. January marked the end of U.S. Navy combat operations in Vietnam, broadened thereafter to all of Southeast Asia. "This marked the first time since VA-128 was commissioned that flight crews were not being trained for going directly into a combat environment," the squadron commander noted.
Still, that year the Golden Aviators of VA-128 logged 6,918 training hours and honed skills through 371 daytime and 233 nighttime landings while training aboard the USS Ticonderoga and the USS Lexington aircraft carriers. "Peace time has had no appreciable effect on aircrew training," the squadron commander reported at year's end.
The squadron's workhorses were its Grumman A-6A Intruder jets, measuring in at over 54 feet long with a wingspan nearly identical at 53 feet. Two Pratt and Whitney J52-P-6A turbojets powered these low-flying, long-range attack aircraft, enabling subsonic speeds of up to 646 miles per hour.
Hidden within its bulbous nose and fuselage, the A-6A's state-of-the-art avionics were its prime feature. They included an inertial navigation system, air data computer, ballistics computer, radar altimeter, Doppler navigation system, and an advanced all-weather electronic system with antennae for both search and track radar optimized for stealthy nighttime and inclement weather missions.
One of the squadron's new pilots training to fly the A-6A in 1973 was Lt. Alan G. Koehler.
After graduating from Luther College in 1968, the Illinois native and baseball standout completed Aviation Officer Candidate School and, in March of 1969, earned an ensign's commission in the U.S. Navy. Shortly thereafter, he joined VA-128 as a bombardier-navigator and transferred to VA-52 the following year, amassing an impressive collection of honors that included nine Strike-Flight Air Medals and three Navy Commendation Medals.
In March of 1973, Koehler earned his naval aviator wings and returned to VA-128 in April for fleet replacement pilot training to fly the A-6A Intruder. By September, he had accumulated over 390 flying hours of pilot training—including 93 flying hours at the stick of the A6-A—at just 27 years old.
One of Koehler's instructors was Lt. Cmdr. Phil D. Duhamel.
Duhamel was well known at Whidbey Island, having been stationed there in 1964, 1968, and since June of 1972. The New York City native graduated from the University of Rhode Island in 1963. The following year, he was commissioned a U.S. Navy ensign and, shortly thereafter, a naval flight officer.
While assigned to Carrier Division 7, he served as flag lieutenant. Over six combat cruises, Duhamel earned honors such as the Strike Flight Air Medal and the Navy Commendation Medal with Combat "V."
Duhamel returned to NAS Whidbey Island in June 1972, attached to VA-128, and by 1973 served as a staff instructor for new pilots from the bombardier/navigator (B/N) position inside the A-6A. By September, the 33-year-old had logged over 456 flying hours as a B/N in the A-6A, including 23.2 daytime and 3.8 nighttime flight hours in the past 90 days.
On September 19, Duhamel was paired as Koehler's instructor for a nighttime training flight over central Oregon.
---
To some, the overcast sky and midday rain on Wednesday, September 19, 1973, may have seemed more like autumn than one of the last days of summer at Naval Air Station Whidbey Island.
That day, like many before it, crewmen serviced jets for training flights, while pilots-in-training and instructors planned and prepared for their next missions. 
One of these, labeled Event 28314, was to be Koehler's next training flight, with Duhamel serving as instructor in the B/N position. It was a routine, nighttime, low-level syllabus training exercise, one of many flown by the Golden Aviators of VA-128.
The assigned training flight route, Tail Hook OB-16, was aptly named; it hung like a giant fishing hook bent over the High Desert's ancient Pleistocene lakebeds.
Trainees flew it in a clockwise direction, dropping into its lower altitude path near the imaginary hook's tip in western Harney County, just northeast of Wagontire Mountain. Jetting southwest toward the northern tip of Silver Lake in Lake County, pilots would then cut sharply north to a point southeast of Hampton Butte—forming the curve of the hook—before continuing northeast and ending at the Boardman Bombing Range (today's Naval Weapons System Training Facility Boardman) just outside of Boardman, Oregon.
Military flights regularly followed this route, and an official Military Training Route—dubbed IR342—still covers parts of the pathway today.
Like others, the Tail Hook route contained specific checkpoints, and the flight timing between each was an important aspect of pilot training. The data meticulously recorded for each training flight included leg speeds and leg times—the speeds and times between checkpoints. If the team flew too slowly, the mission would fall behind schedule; if it flew too quickly, the mission could end disastrously.  
With their pre-flight briefing starting ahead of schedule, Koehler requested that their take off time be advanced a half hour, and he and Duhamel departed from Whidbey Island at 7:54 p.m. in their A-6A.
Sporting tail number 155721, the jet was one of the squadron's more reliable ones, according to its maintenance officer. It passed its daily and preflight inspections—and Navy records indicate that it had flown two recent missions "with no reported discrepancies." However, later investigation revealed that a "breakdown in internal maintenance department communications and procedures" allowed it to be launched that evening when it would have otherwise been held for maintenance.
The departure went off without a hitch. The crew's communication with air traffic control in Seattle was routine and contained no mention of any issues or malfunctions.
From an altitude of 29,000 feet, Koehler and Duhamel sped over the Cascade Mountains of central Washington toward Oregon. Shortly after 8:37 p.m., at a point southeast of Indian Rock in Washington's Klickitat County, air traffic control in Seattle cleared them to proceed on their approach to the Tail Hook route. Crossing the Columbia River into Oregon, they reported leaving their altitude of 24,000 feet and acknowledged when Seattle reported the expected loss of radar contact.
This would be the last radio transmission received from the flight.
---
Passing over Wolf Mountain, just south of today's Black Canyon Wilderness Area, Koehler and Duhamel entered the approach to the training route and gradually descended. Speeding south, they passed a checkpoint ten miles west of Snow Mountain. They continued in that direction to another checkpoint about ten miles northeast of Wagontire Mountain, in today's Northern Great Basin Experimental Range, where they descended and entered the Tail Hook route.
There, they flew toward the next checkpoint at Summer Lake low, straight, and level. And fast.
By then, they had fallen behind schedule. To make up time, they pushed past the designated and planned ground speed of 360 knots—about 414 miles per hour. It was a dark, moonless night over the High Desert, and the men relied entirely on their radar equipment for navigation.
Koehler and Duhamel then descended lower, below the minimum altitude.
As their pre-flight briefing would have noted, the squadron's SOP (standard operating procedure) for the Tail Hook route made particular note of hazardous terrain on the approach to the Summer Lake turning point, where high points like Burma Rim, Sheep Rock, and Diablo Peak rise from the rolling, gently sloping landscape.
This terrain was known to cause the A-6A's computerized APQ-92 radar system to create shadows of varying lengths. "Very close attention must be given to shadows generated by terrain and the B/N must insure that those shadows are decreasing in length," a Navy report reads. "Shadow lengths that are decreasing are the only true indication of sufficient clearance altitude."   
Clearance was a major factor for fast, ground-hugging flights like Event 28314.
The authorized minimum altitude for the Tail Hook route was 500 feet AGL—above ground level—but the squadron SOP had amended it to 750 feet with all terrain clearance systems working properly and up to 1,000 feet AGL if any were not operational.
Speeding toward the Summer Lake checkpoint and guided by their instruments, Burma Rim's gentle eastside upslope rose in the distance to the jet's steady elevation.
At about 8:50 p.m., a U.S. Air Force B-52 flying nearby reported viewing a flash of light, followed by a fireball, explosion, and intense fire on Burma Rim.
The A-6A had crashed; both Koehler and Duhamel were dead.
---
The standard description of the resulting accident—a CFIT or controlled flight into terrain—gives some understanding of what happened. However, it was Burma Rim's scarred lava rocks and sagebrush that helped investigators piece together the flight's last moments.
The landscape revealed that the A-6A first impacted the upsloping terrain, carving a 50-foot path. Sagebrush was broken down for about 15 to 20 feet in front of this site, indicating level flight prior to impact.
According to Navy investigators, there was "a strong possibility" that Koehler had become aware of the dangerous position just before this first impact and applied full back stick in an unsuccessful attempt to lift the jet above the terrain. At the first impact, Duhamel is believed to have ejected from the jet.
The jet, heavily damaged, then skipped back into the air for about 650 feet. In those final seconds, Koehler struggled valiantly to save the aircraft before ejecting from the cockpit.
The A-6A then impacted the rim again and exploded in a white-hot fireball, charring lava rock, burning sagebrush, and spreading debris for more than half a mile.
While ejection cleared Koehler and Duhamel from the explosion and fire, it wasn't able to save their lives. The plane's speed and low altitude put them outside the safe escape envelope of their Martin-Baker GRU-5 ejection seats, and, tragically, both perished amongst the sagebrush.
The Navy quickly initiated an investigation on site. The following day, U.S. Navy personnel transported the bodies of the fallen aviators back to the air station. A memorial service was held for both officers at the NAS Whidbey Chapel on September 25, 1973.
While the Navy removed portions of the A-6A debris for investigation, much of it remains on Burma Rim today.
---
As stewards of Burma Rim, the BLM continues to do its part to honor the aviators and preserve the site.
On June 14, 2007, nearly 34 years after the accident, a crowd gathered at the Lake County Courthouse War Memorial in Lakeview, Oregon. There, BLM staff, building on the exhaustive research efforts of District Archaeologist Bill Cannon, declared the A-6A accident site a historic federal site, along with an additional military aircraft accident site nearby. They also announced the upcoming placement of interpretive plaques at both locations to ensure, as Cannon described it, "the preservation of these cultural artifacts for future generations."
From the Flag Day dais, Cannon illustrated how the site provokes reflection even decades after the tragic accident.
To Cannon and many others, the site is a portal to understanding what service and sacrifice really mean. He spoke that day of how the aviators "sacrificed their lives helping to defend the freedoms we enjoy in this great country."
"As has been said, freedom is not free," he continued. "It is fitting that we honor the memory of these men with these plaques. By doing so, we also honor all of the men and women who have made the ultimate sacrifice, and those who continue to do so today."
And Cannon knows—better than most.
Not only has he studied and researched the site for decades, he has first-hand knowledge of Navy aviation. While serving in the U.S. Navy during the Vietnam War, he watched A-6 jets launching from the aircraft carrier USS Coral Sea, bound for missions over Southeast Asia.
However, Cannon is the first to say that the story is not the airplane itself. It's the site on Burma Rim, where the quiet sagebrush landscape fosters an opportunity for active, vibrant reflection.
"This is, to me, sacred ground," he said.
And many visitors to Burma Rim today would agree.
-- Story and photos by Greg Shine, gshine@blm.gov, @gregshine 
For more information on visiting the site, please contact the BLM Lakeview District Office at BLM_OR_LV_Mailbox@blm.gov or 541-947-2177.
Full photo album for the A-6A Memorial Site: https://flic.kr/s/aHsjJa3mAF
YouTube video: https://youtu.be/Y8iMvrxRUBY
The author thanks Bill Cannon, Dr. Robert "Buzz" Bernstein, Lynda Smith, and William O. Smith for their research and technical contributions to this article, and Lisa McNee for facilitating access to the site.