Northeastern States District attends GIS Day Event  
The BLM Northeastern States District recently staffed an exhibit at Geographic Information Systems (GIS) Day at the University of Wisconsin in Milwaukee, Wisconsin. The event engages members of the public who are interested in learning more about the geography and technology of GIS.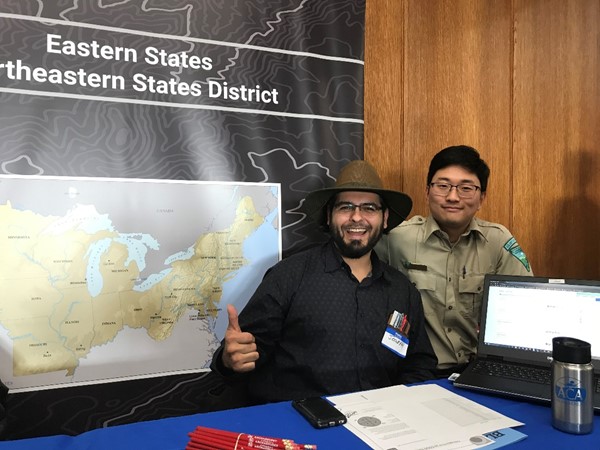 Photo Caption: BLMers Joseph Jarquin, GIS Specialist, and Charlie Kwak, Natural Resource Specialist, staff an exhibit table on GIS Day representing the BLM Northeastern States District. 
GIS Day is an annual event celebrating the GIS that was initiated by spatial analytics world leader Esri and which first took place in 1999. Esri president and co-founder Jack Dangermond credits Ralph Nader with being the person who inspired the creation of GIS Day. He considered the event a good initiative for members of the public to learn about geography and the many uses of GIS. 
At the BLM booth, Joseph Jarquin, BLM GIS Specialist; Ann Buschhaus, GIS volunteer and UWM's GIS Day Coordinator; and Charlie Kwak, BLM Natural Resource Specialist, introduced the numerous ways GIS technology is used by the BLM. The BLM uses GIS technology to create maps showing wells, federal minerals, and leases.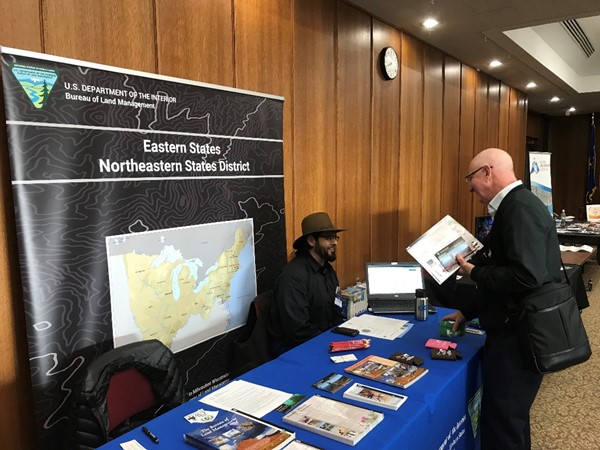 Photo Caption: Joseph Jarquin, GIS Specialist, discusses the Northeastern States District's GIS technology with an event participant. 
The event also included workshops about GIS, including an introduction to GIS, Light Detection and Ranging (LiDAR), and Python coding (a computer programming language). 
GIS day is not just an event; it's a global movement. GIS day brings universities, government agencies, schools, non-profits, and GIS professionals together to build knowledge of GIS in their communities, and create an understanding about the world we live in. 
Story by Martha Malik, Public Affairs Specialist. Photos by Ann Buschhaus, GIS volunteer.