Jim Lovelace Recognized for his Spirit of Stewardship
Jim Lovelace covers a lot of ground.
Most of the time, its running, traveling as many as 20 miles in one day.
As a Bureau of Land Management (BLM) Outdoor Recreation Planner, Jim patrols and maintain 118,529 acres and more than 90 miles of trails of remote wilderness and wilderness study areas in the BLM Gunnison Field Office.
On patrol days, Jim needs to see as many miles of trails as he can. Luckily, Jim is a runner, an ideal sport for someone who needs to cover more than 90 miles of trails. While patrolling, Jim identifies areas that need trail work or drainage, removes fallen trees, and ensures trails are safe for visitors.
Jim spends a lot of time alone in the remote, uninhabited wilderness resources, but he doesn't get lonely. Jim is busy working with partners, leading projects, restoring trails, organizing volunteers, and improving wilderness experiences for visitors.  
Jim's innovation and efforts on a project to protect and restore wilderness resources and wilderness experiences for visitors earned him the 2018 Eric Finstick Stewardship Award – an award established by the BLM in 2008 to honor the memory, legacy, and vision of Eric, a former BLM Colorado Wilderness Coordinator. Eric was a steward of public lands, dedicated to preserving wilderness and other special places. The award recognizes recipients for their efforts to protect, conserve, or restore treasured landscapes, and recognize those who actions reflect Eric's spirit of stewardship.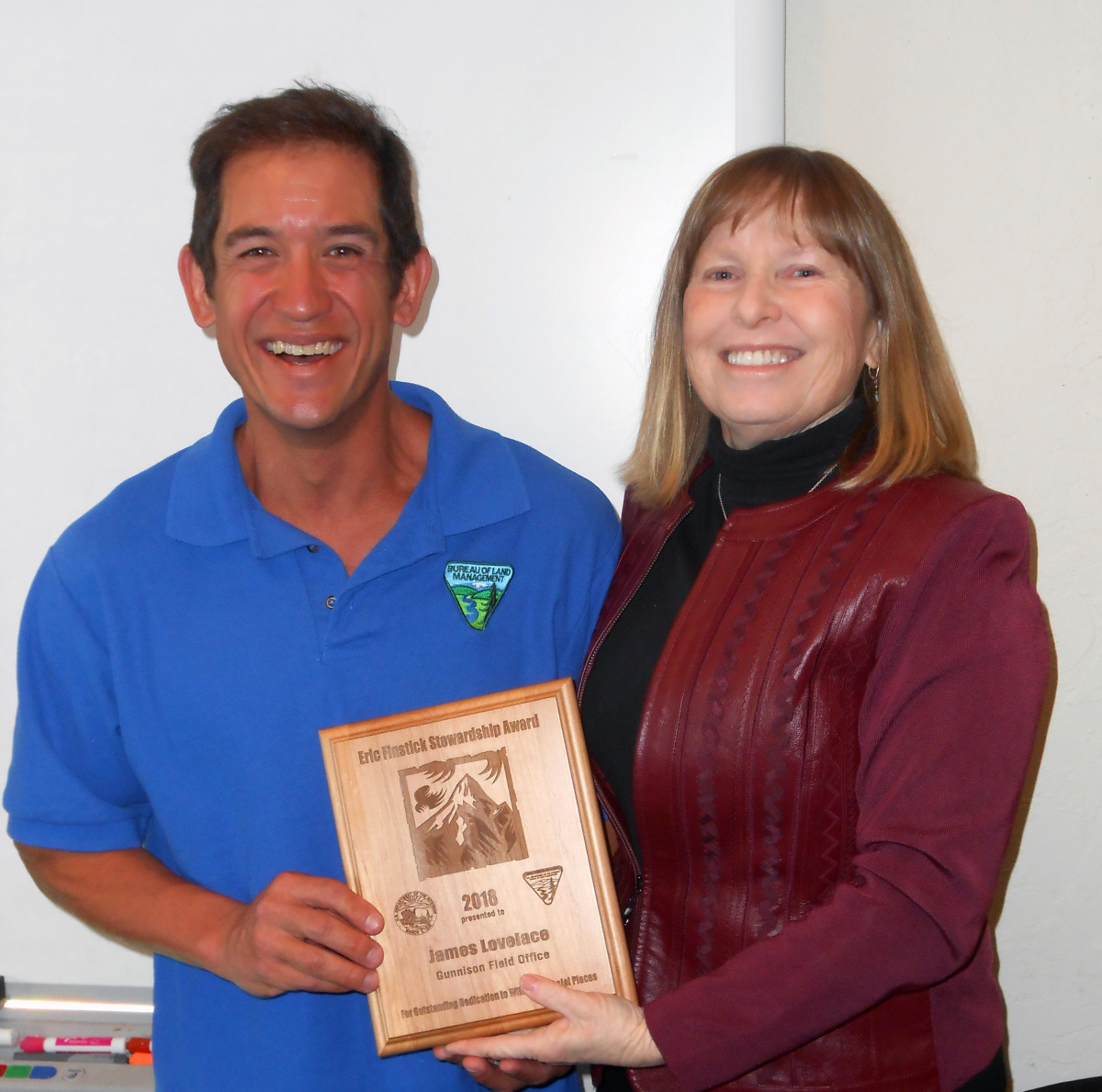 Managing remote wilderness resources can be challenging, especially highly visited alpine trails like the three 14,000-foot peaks, or fourteeners, found in the Gunnison Field Office. These alpine trails are susceptible to erosion and needed improvements.
Jim knew he could not do it alone. He recognizes the importance of help from partners, groups, and volunteers to accomplish what needs to get done. In this case, to prevent erosion and improve safety and experience on the trails for visitors.
"I think where the BLM excels as an agency is that we give the American public an opportunity to jump in and help out. It is impossible to accomplish what we need to without volunteers, partners, and others. We couldn't do it without their help…and some creativity," says Jim.
In 2016, Jim started a partnership with Volunteers for Outdoors Colorado and Colorado Fourteeners Initiative. Work focused on the Silver Creek Trail, which accesses two fourteeners, Redcloud and Sunshine Peaks, and crosses habitat for the endangered Uncompahgre fritillary butterfly. Using rocks for stability and trail maintenance, volunteers dedicated their weekends to improve the trail.
Two years and several volunteer projects later, the trail still needed more work. In 2018, Jim traded rocks for wood to create timber check steps – a staircase of timber logs cut into the steep trail, designed to capture material run-off. With a plentiful source of native beetle-kill timber along the trail, timber was substituted for rock.
Jim brought in more help, partnering with Gunnison Trails, butterfly researchers from Western Colorado University, and the Colorado Mountain Club on the timber check stop project. Jim led the four-day pre-work project to prep the timber logs for use as check steps. Volunteers chopped down beetle-kill trees, stripped the bark and cut logs without a single electric-powered tool. Following the pre-work, volunteers installed 80 timber check steps on the Silver Creek Trail. The timber logs passed along a line of more than 40 volunteers stretched across one and a half miles to transport the timber to the trail.
Under Jim's leadership, the Silver Creek Trail project improved the trail's sustainability to the popular fourteeners, utilized native beetle-kill timber, preserved the alpine tundra ecosystem, and protected habitat for an endangered butterfly. For Jim's efforts on Redcloud Peak, he was awarded the Colorado Fourteeners Initiative's Outstanding Agency Partner of the Year for 2017.
Jim still covers a lot of ground. And with the help of partners, groups and volunteers, he covers a lot more.