Data for Public Land Management
As an integral part of its landscape approach to multiple-use public land management, the BLM gathers, assesses and monitors information about the lands it manages for the people of the United States. Rapid Ecoregional Assessments and the monitoring efforts taking place as part of the agency's Assessment, Inventory, and Monitoring strategy represent the kinds of efforts that the BLM conducts to keep tabs on the health of the lands it manages for a variety of uses in trust for the American people.
Monitoring is essential to produce consistent, high-quality information for managing the public lands for multiple use.  By collecting this data in a structured manner, the BLM can use the same information to meet local management need or to address broader landscape-scale needs.  
The BLM's AIM Strategy is standardizing data collection and retrieval so the information needed for decision making about ecosystem conditions and trends is comparable over time and can be readily accessed and shared. The goal of the AIM Strategy is to provide the information needed to understand resource conditions and trends, and to evaluate and refine conservation actions.  
In addition, the BLM is gathering consistent high-quality data for Geographic Information Systems maps products needed to develop and support resource management strategies and decisions.
The BLM has also initiated 15 Rapid Ecoregional Assessments or REAs covering more than 800 million acres of land to examine landscape-scale resource conditions and trends that previously could only be generalized over a broad area.  Each of these ecoregions comprises large landscapes defined by their shared ecological characteristics, such as sagebrush steppe or arctic tundra. 
The information gathered through the REAs is used to highlight and map areas of high ecological value, including important wildlife habitats and corridors, and gauge their potential risks from climate change, wildfires, invasive species, energy development, and urban growth.  REAs also map areas that have high energy development potential, and relatively low ecological value, which could be best-suited for siting future energy development. In addition, REAs establish landscape-scale baseline ecological data to gauge the effect and effectiveness of future management actions.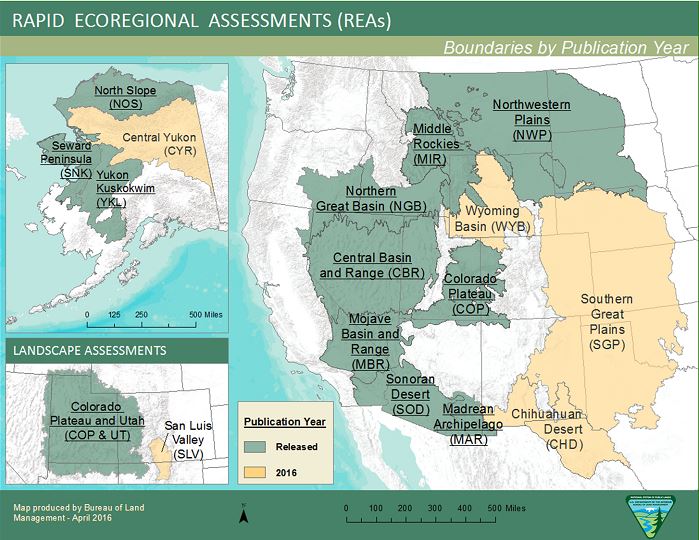 All the reports, data, maps and models produced for the REAs can be accessed through the BLM Geospatial Business Platform Hub REA Data Page.