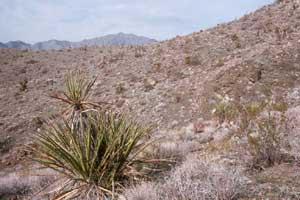 Address:
Kingman Field Office 2755 Mission Boulevard Kingman, AZ 86401
Latitude/Longitude:
35.961253, -114.578729
Directions:
A four-wheel drive vehicle is strongly recommended for all access routes.

Missouri Spring Access: Turn northeast onto the Temple Bar Road from Highway 93. This turnoff is about 19 miles south of Hoover Dam. Look for Road #130, on the Lake Mead National Recreation Area, located on your left, at approximately milepost 10.8. Follow this trail for 3.1 miles to trailhead parking.

Cabin Site Access: Turn northeast onto the Temple Bar Road from Highway 93, about 19 miles south of Hoover Dam. A jeep trail is located a short distance north of milepost 5. Follow this trail west about 4 miles to its end.
Mount Wilson Wilderness
Overview
The 23,900-acre Mount Wilson Wilderness is located in Mohave County, Arizona, approximately 30 miles southeast of Las Vegas, Nevada and 60 miles northwest of Kingman, Arizona.

The wilderness encompasses eight miles of Wilson Ridge and its summit, the 5,445-foot high Mount Wilson. This mountain range, largely contained within the wilderness, is the most prominent range in the Hoover Dam area.

The area's forbidding and stark landscape contains several dependable springs which sustain a surprisingly wide variety of wildlife, most notably a population of desert bighorn sheep. With a vertical relief of over 3,000 feet, visitors hiking along Wilson Ridge can enjoy a breathtaking view of Lake Mead and the colorful cliffs, badlands, and mountains extending to the farthest horizon.
Know Before You Go
A four-wheel drive vehicle is strongly recommended to gain access to this wilderness.
The terrain in this wilderness is extremely rugged. No trails are present, although sometimes burro and sheep trails can be located and followed.
The summer climate in this wilderness unit is harsh. Daytime temperatures during the summer months are over 100 degrees. Temperatures are more moderate between October 1 and April 30th.
Water is scarce in this part of the Black Mountains. It can usually be found at Missouri Spring and at Wildhorse Spring, located northeast of Mount Wilson. Ephemeral water can sometimes be found in rain pockets following storms.
Please follow the regulations in place for this area, and use Leave No Trace techniques when visiting to ensure protection of its unique natural and experiential qualities.
Motorized equipment and equipment used for mechanical transport are generally prohibited on all federal lands designated as wilderness. This includes the use of motor vehicles (including OHVs), motorboats, bicycles, hang gliders, wagons, carts, portage wheels, and the landing of aircraft including helicopters. Contact the agency for more information about regulations.
Most of the lands surrounding the wilderness are administered by the Lake Mead National Recreation Area. Obey all National Park Service public use and off-road-vehicle restrictions when accessing the Mount Wilson wilderness.