BLM New Mexico COVID-19 Information Update
The Department of the Interior's current COVID-19 policy incorporates CDC guidance. As CDC science-based guidance changes, our policy will adapt. Visitors have always been encouraged by DOI to review CDC guidance when making their plans to recreate responsibly. CDC guidance indicates that fully vaccinated people no longer need to wear a mask or physically distance in any setting, except where required by federal, state, local, tribal, or territorial laws, rules, and regulations. Unvaccinated people must wear a mask indoors in DOI buildings at all times and outdoors when physical distancing cannot be maintained. All people, regardless of vaccination status, are required to wear a mask on all forms of public transportation and in healthcare settings on DOI lands. We will continue to ask visitors to follow CDC guidance to recreate responsibly.
The latest information on changes to facilities and services in response to Coronavirus (COVID-19) is available here.
View the alert: BLM New Mexico COVID-19 Information Update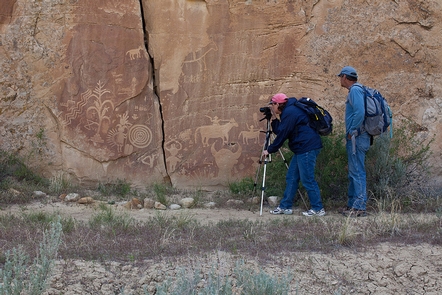 Address:
Farmington Field Office 6251 College Blvd. Suite A Farmington, NM 87402
Latitude/Longitude:
36.54701, -107.6166667
Directions:
To reach the petroglyphs, a high-clearance, four-wheel drive vehicle is recommended. Take County Road 4450 for 19 miles south from its junction with Highway 64. Follow the signs across Largo Wash, and then turn north and drive approximately one mile to the mouth of Crow Canyon. (NOTE: Do not cross either wash when water is present, and caution should be used when sand is either very wet or very dry. Get out of your vehicle to check the condition of the wash). Signs direct you to the main panels at the mouth of the canyon. To see the "44 Panel," follow the road up the canyon, and then park at the well pad. Signs direct you to the trail to the "44 Panel," a hike of about 3/4 of a mile.
HISTORIC & CULTURAL SITE
Crow Canyon Petroglyphs
Crow Canyon is a historic site about 30 miles southeast of Farmington, New Mexico. Located in Dinйtah, the traditional homeland of the Navajo people, the site contains a variety of Navajo ruins and rock art from the 16th, 17th, and 18th centuries.

The Crow Canyon Petroglyphs are the most extensive and well-known collection of 16th, 17th and 18th century Navajo petroglyphs (carved rock art) in the American Southwest. Earlier Ancestral Puebloan (a.k.a. Anasazi) images can also be found among the Navajo rock art. Hundreds of images of animals, humans, supernatural beings, and other images such as corn plants and bows and arrows can be found, carved on south and east-facing canyon walls. Most of the images are clustered in what are referred to as "panels," on the lower cliff faces of the canyon. Archaeologists believe the panels may have been associated with ceremonies, as many of the images are similar to Navajo ceremonial sand paintings.

The Crow Canyon National Register Archaeological District was listed on the National Register of Historic Places in 1974 for its examples of Navajo rock art and defensive pueblito sites. Please do not touch the rock art panels, as the acids on your skin can damage them.