BLM Nevada COVID-19 Information
As the State of Nevada continues to evaluate our adaptive operations plan, all offices remain closed, but are available for scheduled appointments, as appropriate. Our employees are always available by email and phone to answer questions and assist the public with their needs. Our COVID-19 alert contains information on openings, closures and links to additional information provided by the state and CDC. 
View the alert: BLM Nevada COVID-19 Information
The Bureau of Land Management's Elko District, Wells Field Office concluded the emergency wild horse gather on July 29, 2020.
2020 Antelope Valley Emergency Wild Horse Gather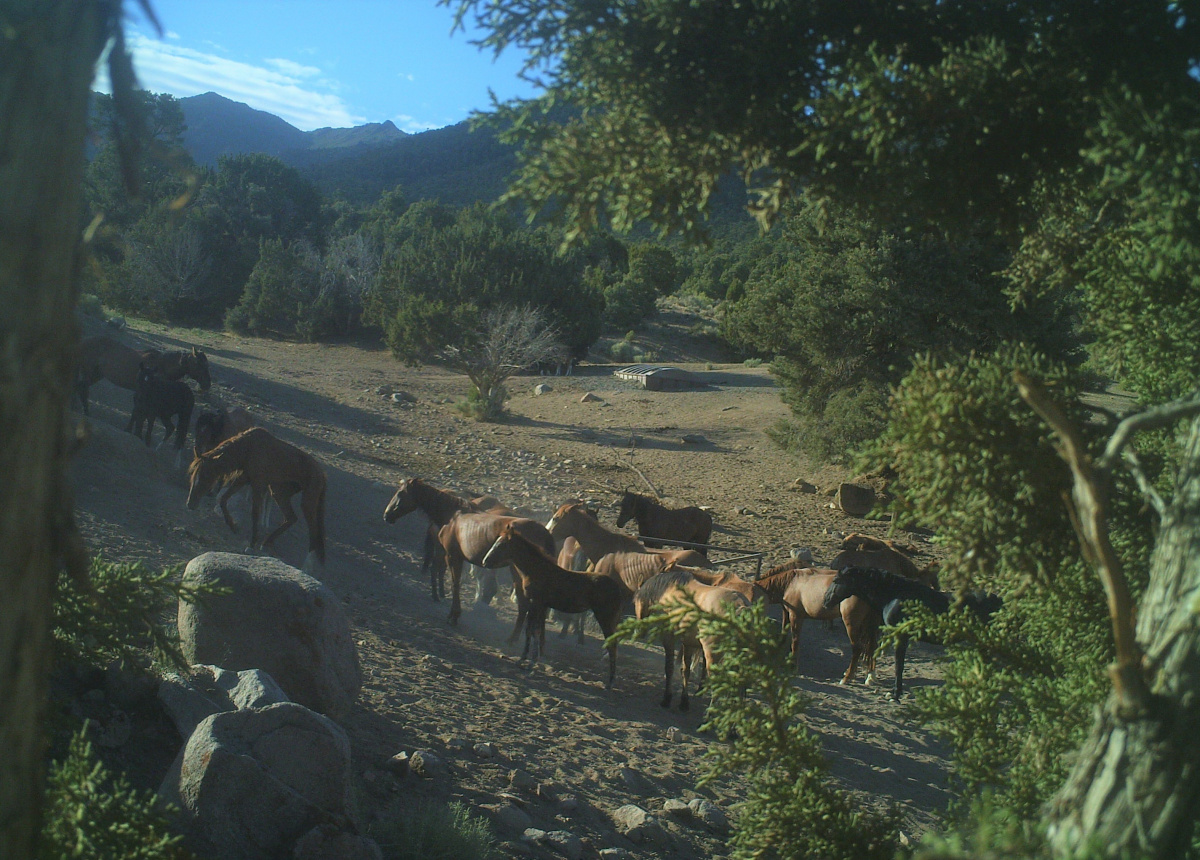 Purpose of Gather:
The Bureau of Land Management (BLM), Elko District, Wells Field Office began the emergency wild horse gather on July 27, 2020 on the Antelope Herd Management Area (HMA) located about 55 miles south of Wells in Elko County, Nevada. The central portion of the HMA is having water shortages due to a large congregation of wild horses at limited water sources.  The demand to the resource (water) from the current population of horses is more than the resource can provide. Gather operations will focus around the Deer Springs area where wild horses have moved in search of food and water.
The action was needed due to lack of water and declining health of the wild horses – the Deer Springs area has a history of water issues during dry spring and summer months. The Antelope Valley HMA is overpopulated and animal conditions are declining due to range degradation and lack of sustainable water resources. Regular monitoring has occurred in the HMA to observe wild horse body condition and range and water conditions. Dependent on the location within Antelope Valley HMA animals body conditions have been observed in the range of 1.5-4.
In order to alleviate the competition for the limited water resources and prevent body condition decline and/or death of the most vulnerable horses, the BLM, Wells Field Office has hauled water to Deer Spring until the emergency gather operation could be conducted.
Details of Gather:
The BLM conducted gather operations by using temporary water and bait traps consisting of a series of corral panels stocked with water and hay; no helicopters were used. The BLM planned to gather and remove approximately 50 excess wild horses. Once gather operations are completed, approximately 1,094 wild horses will remain in the HMA. The gather was planned to last approximately 60 days.
All horses identified for removal will be transported to the Bruneau Off-Range Corrals, located in Bruneau, Idaho, where they will be checked by a veterinarian and readied for the BLM's wild horse and burro Adoption and Sale Program.
Public Observation:
Because of the nature of the bait and water trap method, wild horses are reluctant to approach the trap site when there is too much activity; therefore, only essential gather operation personnel will be allowed at the trap site during operations.
Continuing our service to the public while doing our part to address COVID-19 is very important. The BLM and its contractors will follow guidance from the CDC and all recommendations and/or mandates from state and local public health authorities throughout the gather operation.
Background: 
The Antelope Valley HMA's appropriate management level (AML) is 155-259 wild horses. As of March 1, 2020, the estimated population was 953 wild horses, which does not include additional foals born this year. The current population estimate, including the 2020 foal crop, puts the HMA at approximately 1,144 wild horse or 442 percent over the high end of AML. The gather is critical to ensuring the health of the HMA lands as well as the wild horses in the area, both of which are in jeopardy due to herd overpopulation and extremely limited water sources.  
The  Antelope Valley Herd Management Area (HMA) is located approximately 52 miles south of Wells. It is 46 miles wide at its widest point and 26 miles long. The highest point is High Peak Mountain at 9,258 feet in elevation and the lowest points are found in the valley bottoms and ranges around 5,000 feet. 
The area consists of 496,356 acres of BLM land and 6,553 acres of a mix of private and other public lands for a total of 502,909 acres. The elevation ranges from 8,923 feet at King Lear Peak to approximately 4,000 feet along the valley floors.
In the Antelope Valley HMA, horses have been part of the range environment in the Great Basin since contemporary livestock grazing began in the mid 1800's. Although there are allotments within the area, there has been no grazing since the early 1980's. The wild horses in the Antelope Valley HMA are descendants from horses used by homesteaders, ranchers and miners. There is some evidence the Army Remount Service was active in at least part of the area during the early 1900's to the early 1940's. The dominant colors are bay, sorrel, black, brown, buckskin, gray and dun.
This region is located in the Great Basin which is one of the largest deserts in the world. The Great Basin is effectively cut off from the westerly flow of Pacific moisture. Orographic uplift of crossing air masses by the Sierra and the Cascades provides cooling and precipitates much of the moisture out. The result is a Dry Steppe cold climate classification for most of the Great Basin. The climate is typical of middle latitude, semi-arid lands where evaporation potential exceeds precipitation throughout the year.
Precipitation normally ranges from approximately five to seven inches on the valley bottoms to 16 to 18 inches on the mountain peaks. Most of this precipitation comes in the form of snow occurring primarily in the winter and spring with the summers being quite dry. Temperatures range from greater than 90 degrees Fahrenheit in the summer months to minus 15 degrees or colder in the mountains in the winter. The HMA is characterized by long wide valleys and long narrow steep mountain peaks covered with heavy pinyon juniper woodlands.
On many of the low hills and ridges that are scattered throughout the area, the soils are underlain by bedrock. In general, the vegetation consists of big sagebrush-grass and low sagebrush-grass, montane shrub, salt desert shrub, black sagebrush, winterfat, pinyon-juniper, and montane riparian communities. The foothills and mountain areas are dominated by big sagebrush-grass and low sagebrush-grass types. Primary shrubs are big sagebrush, low sagebrush, and rabbitbrush. Major grass species include bluebunch wheatgrass, Indian ricegrass, Sandberg's bluegrass, needlegrass, and bottlebrush squirreltail. Forbs include milkvetch, arrowleaf balsamroot, lupine, phlox, and aster. The higher mountainous areas support mountain browse species that include serviceberry, snowberry, and antelope bitterbrush. Riparian areas at high elevations support cottonwood and wild rose. The valleys are dominated by salt desert shrub and black sagebrush communities which consist of winterfat, shadscale, bud sagebrush, black sagebrush, and rabbitbrush. Major grass species in the valleys include Indian ricegrass, Sandberg's bluegrass, needlegrass, and bottlebrush squirreltail. Forbs include milkvetch, lupine, phlox, and aster. 
Adoption Information: 
The BLM works to place excess animals into private care through its Adoption and Sales Programs as well as successful partnerships with organizations across the nation.  Many have found it personally challenging and rewarding to adopt or purchase a wild horse or burro.  It is a chance to care for, and then own, a part of America's heritage. Animals not adopted will be cared for in off-range pastures, where they retain their "wild" status and protection under 1971 Wild Free-Roaming Horses and Burros Act.
The BLM has placed more than 240,000 wild horses and burros into private care since 1971. Many of those animals have become excellent pleasure, show, or work horses.
For more information on the Wild Horse and Burro Program, call 1-866-468-7826 or email wildhorse@blm.gov.
Tuesday, July 28
Summary: Today's temps were a high of 90 and low of 56.
Animals Gathered: 11 (4 Studs, 4 Mares, and 3 Foals)
Animals Shipped: 55 (22 Studs, 23 Mares, and 10 Foals)
Deaths: 0
-Sudden / Acute: 0
-Pre-existing / Chronic: 0
Monday, July 27
Summary: Today's temps were a high of 90 and low of 56.
Animals Gathered: 43 (*18 Studs, *19 Mares, and 7 Foals)
* numbers corrected 7/31/20 by final gather report to reflect small stud found in mare pen and stud that was gathered and not counted on 7/27.
Animals Shipped: 0 (0 Studs, 0 Mares, and 0 Foals
Deaths: 0
-Sudden / Acute: 0
-Pre-existing / Chronic: 0