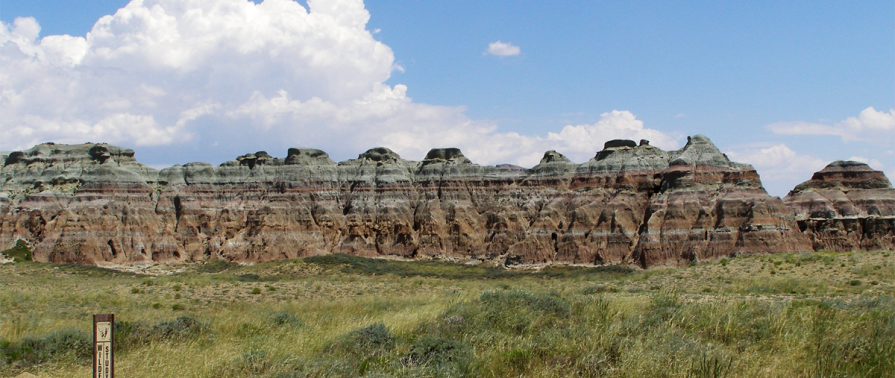 HONEYCOMB BUTTES WILDERNESS STUDY AREA
Values
The Honeycomb Buttes WSA provides opportunities for experiencing naturalness, solitude, primitive and unconfined recreation, and wilderness. Recreational opportunities include backpacking, horseback riding, rockhounding, nontechnical climbing on the clay and rocky buttes, hunting, spelunking in the many erosion caves found in the buttes, and wildlife and outdoor photography. The WSA also has many interesting ecological and geological values. Mountain lions, bobcats and elk are known to use this area. The many mud caves found in the buttes harbor little brown bats, small-footed myotis bats, and great horned owls. The eroded buttes and badlands offer unique colors, textures, varieties and forms. Fossils, fragments of fossilized turtle shells, and various fossil cast bearing formations are often found in the region.
Visitation Information
The remarkable scenic quality of this WSA greatly enhances the available recreational values. The Honeycomb Buttes proper and the North Fork of Bear Creek drainage, in the core of the recommended area, is a highly colorful and rugged desert badlands area. The headwaters of Red Creek and Sand Creek are relatively wide drainages bounded by rough eroded escarpments on three sides with wide flat benches between the drainages. The many cliffs, ridges, draws and secluded grottos provide numerous areas where a person could experience solitude. Motorized travel is expressly prohibited. Additionally, the WSA is closed to mineral entry, including gold panning.
Visitor Advisory
Access to wild lands inherently requires good navigational skills and four-wheel drive or high-clearance vehicles. Visitors should be prepared for adverse weather and road conditions. The WSAs in the BLM Field Office are primarily accessed by unnamed or unsigned two-track roads that in many cases may be difficult to find without sufficient navigational skills and equipment.
Wilderness Study Areas
WSAs are undeveloped federal lands that retain their primeval character and influence, without permanent improvements or human habitation, and are managed so as not to impair their suitability for preservation as wilderness. Backcountry recreation is a common use along with Leave no Trace Outdoor ethics. Please be advised these areas are restricted and do not allow for the use of motorized and mechanized equipment.