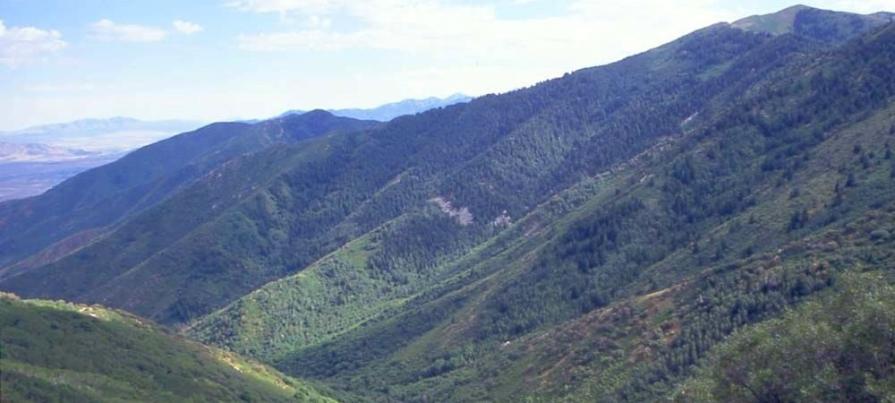 NORTH STANSBURY MOUNTAINS WILDERNESS STUDY AREA
Values
The WSA is just north of the Deseret Peak Wilderness (US Forest Service) and south of the Great Salt Lake. The North Stansbury range rises above the desert between two valley floors with elevations varying between 5,200 feet along the northern base of the range and up to 8,800 feet on the southern end and consists of steep V-shaped canyons. Vegetation consists primarily of juniper-conifer forests with different elevations providing for distinct growth zones. Lower elevations are covered with typical juniper and sagebrush scrublands while higher elevations see wild rose, service berry and mountain mahogany. There are approximately 180 species of wildlife inhabiting the area including cougar, bobcat, deer, grouse, raptors, and cottontails, golden eagle and bald eagle.
Visitation Information
Vehicle access to the North Stansbury Mountains is easiest from Interstate 80. Take the Rowley Dugway exit (Exit 77), six miles east of Delle, UT and follow the CR 196/Skull Valley Road approximately 5 miles south. The WSA access road is located just past mile marker 31 on the east side of the road.There are two gates between the road and a small BLM kiosk located approximately ¼ mile up the gravel road as well as a small structure. Please leave gates as you find them. About 2.8 miles up the rough and rocky road is a fence delineating the WSA boundary.
Visitor Advisory
Travel to WSA boundary requires vehicles that have moderate to high clearance. Volunteers should park and walk at any point along the access road if the road appears too rough to safely drive. Avoid attempting to access the area during inclement weather or when the roads are wet and rutting would occur