Lincoln Tract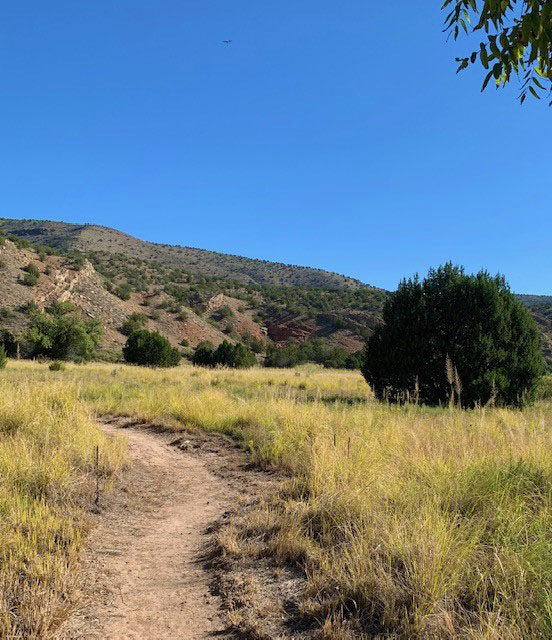 The Lincoln Tract is behind the town of Lincoln.  It is a great place to hike and get back to nature.  There are several access points to the Lincoln Tract. Within the town of Lincoln, there are two access points to BLM's nature trail, which forms a loop through the riparian area of the Rio Bonito. At the northeast corner of the NM Historic Site museum's parking lot is the beginning of the nature trail, where there is a kiosk with information. The other end of the nature trail is at the east end of the town park. At the north end of the town of Lincoln, there is a parking area on the east side of the road. Trail access is on the east side of the parking lot. The field that serves as the parking area is a great location for starting a hike or bike ride and is used for equestrian access. Equestrian users can ride the trails north of this access point. Hiking and biking are permitted on the nature trail but equestrian use on the nature trail is not allowed. Do not ride horses on the bridges.
Latitude/Longitude: 33.49343, -105.38514
January 30, 2023 update: Due to heavy rainfall and flooding, the bridges to access the Nature Trail are currently unavailable. BLM is working to get the bridge(s) replaced.
The following acts are prohibited: 
Overnight camping
Discharge of firearms
Motorized vehicle use anywhere on the Rio Bonito tract (except for authorized users)
Removing or attempting to remove any plants or vegetation
Excavating, damaging, removing, altering or defacing any archaeological or cave resources
Please be aware and respectful of:
Private property boundaries
Current fire restriction status
Noise level and trash management – Leave No Trace