Volunteers welcome for National Public Lands Day cleanup in Susanville
BLM Office:
Eagle Lake Field Office
Region:
California
Northern California DO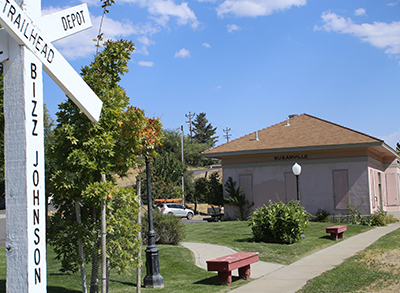 SUSANVILLE, Calif. – Volunteers are welcome to help spruce up the Susanville Trailhead at the Bizz Johnson National Recreation Trail, in an event to observe National Public Lands Day, Saturday, Sept. 22.
The Bureau of Land Management and Lassen Land and Trails Trust are organizing the event that gets underway at 9 a.m. at the historic Susanville Railroad Depot, 601 Richmond Road, in Susanville.
"We are happy to celebrate National Public Lands Day with our partners and Bizz Johnson Trail users," said Brian Novosak, manager of the BLM's Eagle Lake Field Office in Susanville. "Partnerships and inclusion are vital to sustaining public lands that improve the quality of life for Lassen County residents and visitors."
During the workday, teams will complete landscaping projects, install new signs, repair information kiosks and refurbish a deck at the Depot visitor center. Organizers will provide a barbecue lunch and tours of the railroad depot and caboose to round out the day at noon.
The BLM will provide tools, gloves and eye protection. Volunteers should wear clothes suitable for outdoor work, including sturdy closed-toed shoes. Hats and sunscreen are strongly recommended.
More information is available from the BLM Eagle Lake Field Office, 530-257-0456.
National Public Lands Day, now in its 25th year, is the nation's largest single-day event focused on improving public lands.  Organized by the National Environmental Education Foundation, the event provides opportunities for people to celebrate their public lands through volunteering.
---
The BLM manages more than 245 million acres of public land located primarily in 12 western states, including Alaska, on behalf of the American people. The BLM also administers 700 million acres of sub-surface mineral estate throughout the nation. Our mission is to sustain the health, diversity, and productivity of America's public lands for the use and enjoyment of present and future generations.