BLM authorizes Camino Solar Project in Kern County
BLM Office:
Ridgecrest Field Office
Region:
California
California Desert DO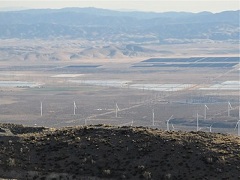 RIDGECREST, Calif. – The Bureau of Land Management has approved the Camino Solar project in Kern County, west of the town of Rosamond. The Decision Record and Finding of No Significant Impact released today authorizes Aurora Solar LLC a right-of-way to construct, operate, maintain and decommission a 44-megawatt photovoltaic solar facility on 233 acres of public lands.
The Camino Solar project includes an energy battery storage, a 34.5 kV underground electrical collector line and utilizes the existing Manzana Wind substation and access roads. The existing Manzana Wind 220 kV generation-tie line will transfer the energy generated to the Southern California Edison Whirlwind Substation.
This decision supports Executive Order 13783, Promoting Energy Independence and Economic Growth; and Secretarial Order 3349, American Energy Independence, through the production of enough energy to power roughly 13,200 homes upon completion.   
The public comment period on the Environmental Assessment for the project closed on March 16. The Decision Record, Finding of No Significant Impact, Environmental Assessment, and associated documents are available https://bit.ly/2YFKi2U. Please contact Paul Rodriguez, at prodriqu@blm.gov, for additional information or accessibility options.    
---
The BLM manages more than 245 million acres of public land located primarily in 12 western states, including Alaska, on behalf of the American people. The BLM also administers 700 million acres of sub-surface mineral estate throughout the nation. Our mission is to sustain the health, diversity, and productivity of America's public lands for the use and enjoyment of present and future generations.