BLM and U.S. Forest Service host free species-counting event to celebrate 20th Anniversary of Santa Rosa and San Jacinto Mountains National Monument
BLM Office:
Palm Springs-South Coast Field Office
Region:
California
California Desert DO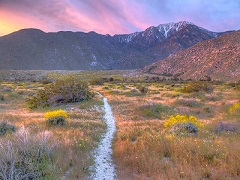 MORENO VALLEY, Calif - Join the Bureau of Land Management (BLM) and the United States Forest Service (USFS) in celebrating the 20th Anniversary of the Santa Rosa and San Jacinto Mountains National Monument with a free public BioBlitz event, October 23-24.
"We are excited to host this first-ever BioBlitz event for the Monument," said Dani Ortiz, manager for the Santa Rosa and San Jacinto Mountains National Monument. "Our focus is on encouraging the enjoyment of public lands while promoting volunteerism and commemorating 20 years of stewardship, enhanced recreation and conservation in the Monument."
The BioBlitz event will take place over a 24-hour period starting noon on Friday, October 23 and ending noon on Saturday, October 24. People of all ages are invited to participate by using the free iNaturalist smartphone app to identify as many species of plants, animals, and other organisms as possible along designated National Monument trails. The BLM and USFS will encourage participants to follow the latest guidance from the Centers for Disease Control and Prevention to prevent the spread of COVID-19.
The goal of the free BioBlitz event is to give members of the public an opportunity to experience the National Monument's unique biological value and natural habitats consisting of deserts, foothills and mountains while also contributing to genuine scientific research. The data gathered by the public will be used by the BLM and USFS staff to better understand the types and locations of species within the Monument.
For additional details and to register for the BioBlitz event, visit www.DesertMountains.org. In honor of National Public Lands Day, the first 50 participants to register will receive a 2020 National Public Lands Day shirt. For more information, contact Tracy Albrecht, Interpretive Specialist, Bureau of Land Management by email, talbrech@blm.gov or call (760) 833-7127. 
---
The BLM manages more than 245 million acres of public land located primarily in 12 western states, including Alaska, on behalf of the American people. The BLM also administers 700 million acres of sub-surface mineral estate throughout the nation. Our mission is to sustain the health, diversity, and productivity of America's public lands for the use and enjoyment of present and future generations.