Camping - Tucker Flat
General Information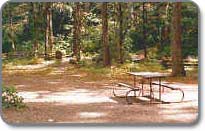 Located above the sparkling waters of Mule Creek, Tucker Flat Campground borders the Wild Rogue Wilderness. This campground is ideal for those seeking solitude and remoteness. There are six designated sites with NO hook-ups or potable water. If you dare to enjoy the cool water of Mule Creek, fantastic swimming holes are located just below the campground. Upgrades to Tucker Flat were made in 2003, including site designation and the addition of new picnic tables and campfire grills.
Mosquitoes can be a nuisance during the summer months and bears visit the campground regularly, so be sure and bring mosquito repellant, pack your food away, and place all garbage in the bear-proof trash receptacles.
Hiking opportunities are available from the campground. The trailhead for Mule Creek Trail, within the Wild Rogue Wilderness, is within the campground boundary and just down the road you can access the Rogue River National Recreation Trail as it enters the scenic Mule Creek Canyon.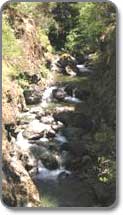 The historic community of Marial is within ¼ mile of the campground. Current attractions in Marial include the Rogue River Ranch, a Forest Service guard station, a private lodge that still welcomes guests (reservations are required), and the Rogue River.
Camping at Tucker Flat is on a first come first serve basis. The campground is in a remote location. There are no gas stations or other services available. Come prepared. A restroom is accessible.
Campground is open May through October. The routes are usually closed in the winter due to snow accumulation.
The routes to Tucker Flat are not recommended for RV travel because they are one-lane paved and gravel curvy mountain roads.