About The Rogue
A few of the most popular areas along the Rogue Wild and Scenic River are: the Hellgate Canyon, Rogue River National Recreation Trail, Rainie Falls Trail, Whisky Creek Cabin, Rogue River Ranch (PDF), Mule Creek Canyon, and Blossom Bar. There is a BLM river information visitor center approximately 25 miles northwest of Grants Pass. The visitor center is on the river near the town of Galice and is approximately 20 miles from I-5 on the Merlin-Galice Road. The center is called the Smullin Visitor Center and is located at the Rand National Historic Site.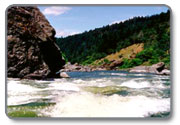 View on the River
If you are planning a trip on the Rogue National Wild and Scenic River, Grants Pass, Oregon is the nearest population center where you can find supplies and services prior to your trip. The BLM administered Wild and Scenic Rogue is divided into 2 sections: the Hellgate Recreation Area and the Wild Rogue.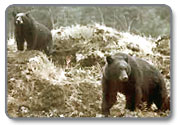 Black Bears found around the Rogue River
The Hellgate Recreation Area, 27 miles long, from the mouth of the Applegate River to Grave Creek, is a popular stretch for day trips featuring 11 boat ramps, and Class I and II rapids. Commercial guides are required to have a permit to offer boat trips in the Hellgate Recreation Area. The area offers guided float trips, fishing trips, jet boat trips, shuttles and equipment rental services. Permits are not required for private boating parties.
The Wild Rogue requires a permit for both private and commercial boat trips. The Wild Rogue, 32.4 miles, Grave Creek to Watson Creek, is a Class III river, with a few class IVs, and is usually traveled in 3 to 4 days by float boating or 5 days by hiking. There are two boat ramps - Grave Creek, the put-in, and Foster Bar, the take-out. If you are planning a guided float trip on the Wild Rogue, check our commercial outfitter web page. There are also jet boat trips that go upstream from Gold Beach to Blossom Bar. Enjoy your visit to the Rogue!
National Landscape Conservation System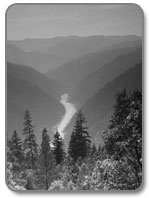 Rogue National Wild and Scenic River's is part of the Bureau of Land Management's National Landscape Conservation System and is one of the original eight rivers designated in the 1968 Wild and Scenic Rivers Act.
The BLM's National Landscape Conservation System includes nearly 27 million acres of National Monuments, National Conservation Areas, Wild and Scenic Rivers, and National Scenic and Historic Trails. The NLCS works to conserve the essential fabric of the West, while offering exceptional opportunities for recreation, solitude, wildlife viewing, exploring history, and scientific research.
Contact Information
General Rogue Information
Bureau of Land Management
Grants Pass Interagency Office
2164 Spalding Ave
Grants Pass, Oregon 97526
541-471-6500
FAX 541-471-6514
BLM_OR_MD_Mail@blm.gov
Rogue River Permit Information
Bureau of Land Management
Smullin Visitor Center at Rand
14335 Galice Road
Merlin, Oregon 97532
541-479-3735
FAX 541-479-0535
BLM_OR_MD_Rogue_River_Mail@blm.gov
Coastal Rogue River Information
Rogue River-Siskiyou National Forest
Gold Beach Ranger District
29279 Ellensburg Ave.
Gold Beach, Oregon 97444
541-247-3600
www.fs.fed.us/r6/rogue-siskiyou/