Grand Valley Off Highway Vehicle (OHV) Special Recreation Management Area Map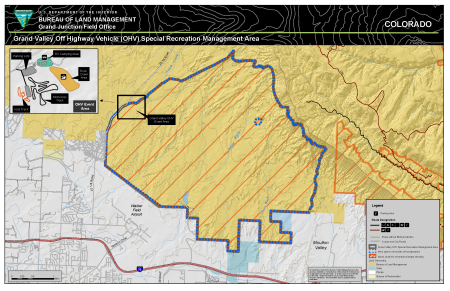 The Grand Valley OHV SRMA is located northeast of the Grand Junction Regional
Airport and encompasses approximately 15 square miles of desert-like terrain bounded
by 27 ¼ Road on the west, the 32 Road alignment on the east, and the Little Book Cliffs
on the northeast. The barren hills of Mancos shale offer challenging rides for all types of
vehicles and all rider skill levels. 27 ¼ Road and 29 Road provide relatively easy access
from the Grand Valley, and offer opportunities for development of recreation support
facilities such as parking/unloading areas, informational signage, restrooms, campsites,
and event venues. 
 
Files
Organization
Collection: Public Room
Category: Map
Keywords
Off Highway Vehicles
Camping