Wyoming Historic Trails Map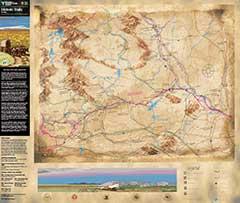 During the 1800s, Wyoming became the focus for American expansion into the trans-Mississippi west. Robert Stuart's discovery of South Pass in October 1812 gave hope that a practical overland route to the Pacific (the route Lewis and Clark searched for but failed to find) did exist.
Some 150,000 pioneers went west between the years of 1849 and 1852. By the mid-1850s, stage coaches and freight wagons were regular users of the California, Mormon Pioneer and Oregon trails, rolling both east and west through South Pass. For 19 months in 1860-61, the riders of the Pony Express transcontinental mail service thundered through the pass on an incredible schedule covering 2,000 miles from St. Joseph, Missouri, to San Francisco, California.
On October 2,1968 The National Trails System Act was passed by the U.S. Congress and signed into law by President Lyndon B. Johnson.  Today, the National Trails System is larger than the Interstate Highway System in length, and includes 11 National Scenic Trails, 19 National Historic Trails, and more than 1,300 National Recreation Trails (including 21 National Water Trails) in all 50 States.

Download the map to view the National Historic Trail cooridors in Wyoming and learn more about the sites along the way! 
Files
Organization
Collection: Public Room
Category: Map
Keywords
National Historic Trails
Mormon Pioneer National Historic Trail
Oregon National Historic Trail
National Historic Trails Interpretive Center