Habitats and Wildlife Classroom Investigation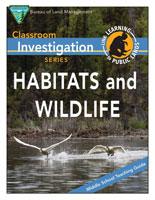 This Classroom Investigation Series unit is on habitats and wildlife on public lands. From its four activities, students will learn about the importance of habitat conservation, how changes to habitat health affect wildlife, and how the Bureau of Land Management (BLM) monitors and promotes healthy habitats.
The unit is designed for middle school students, but it can be adapted for the high school and upper elementary levels. The activities offer students speaking, research, and teaching roles as they progress through the unit.
The activities engage students in using diverse cognitive skills such as interpreting written material, designing an experiment, and creating slideshows to teach one another about the diverse habitats and wildlife of the Western United States.
Files
Organization
Collection: Public Room
Category: Educational Material
Keywords
Educational Materials
Wildlife