Developing a CERCLA Enforcement Case for Cost Avoidance/Cost Recovery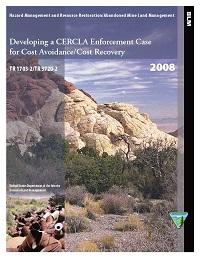 The Bureau of Land Management (BLM) is responsible for sustaining the health, diversity, and productivity of the public lands under its jurisdiction, custody, and control for the use and enjoyment of present and future generations.
Releases of hazardous substances can have a significant impact on the health and safety of individuals who use and work on public lands.
The Comprehensive Environmental Response, Compensation, and Liability Act of 1980 (CERCLA), is a Federal law enacted by Congress allowing the President to take any action deemed necessary to protect public health or welfare or the environment from risks posed by a release or threatened release of hazardous substances.
CERCLA was substantially amended in 1986 with the Superfund Amendments and Reauthorization Act (SARA). The primary purpose of SARA is to expedite the pace of CERCLA response actions and cleanups. Executive Order 12580, Superfund Implementation, as amended, delegated CERCLA authority to the Secretary of the Interior, who in turn delegated it to the BLM Director.
This technical reference provides information and procedures for BLM abandoned mine land and hazardous materials project managers to follow in pursuing cost avoidance/cost recovery cases in accordance with BLM's delegated authority under CERCLA. A cost avoidance/cost recovery case will be initiated once there has been a release or the threat of a release of a CERCLA hazardous substance on public land that requires BLM to take a response action.
Files
Publication Date
Tue, 12/19/2017
Organization
Collection: BLM Library
Category: Technical Reference