Copper River Places: A Report on Culturally-Important Places to Alaska Native Tribes in Southcentral Alaska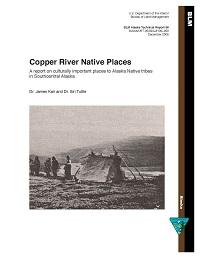 The Bureau of Land Management Glennallen Field Office is compiling information on areas of special concern to village and tribal members who live in areas affected by the East Alaska Resource Management Plan (RMP). There has been no management plan for East Alaska since the early 1980s. This work is being done between January and October, 2004.
The federally-recognized tribes that are in or near the East Alaska RMP are Mentasta Lake Village, the Native Village of Chistochina (Cheesh-na), Gakona Village Council, Gulkana Village Council, the Native Village of Tazlina, the Native Village of Klutikaah (Copper Center), the Native Village of Chitina, the Native Village of Cantwell, Chickaloon Village Traditional Council, the Native Village of Eyak (Cordova), and the Yakutat Tlingit Tribe. The first draft (June 2004) was sent to 15 tribal councils and Native corporations in the area.
The final draft (April 2005) is being distributed among the tribal groups who are proximate to the East Alaska BLM region, to several individuals who were interviewed, and to the Bureau of Land Management (the federal agency sponsoring the work) and several other agencies. Copies of the final report may also be placed at several community and Alaska public libraries. References to traditionally important places are being kept confidential among these parties or are made in fairly general terms.
This report has five sections: sections 1 through 4 have discussions of sources of information on Ahtna, Eyak and Tlingit territorial knowledge and culturally-important areas that are of relevance to the recognized tribes that are proximate to the East Alaska RMP. Section 5 has several suggestions for the East Alaska RMP and for some cooperative agency-tribal initiatives
The numerous consultations conducted in preparing this report have given us the opportunity to review and summarize some hard-to-find sources on Native territoriality and geography of the region and to engage in discussions with many local persons on contemporary issues that relate to the East Alaska RMP. The final East Alaska RMP will make reference to information presented in this report and present a summary of the main concerns expressed in the final report.
Files
Organization
Collection: BLM Library
Category: Report