McInnis Canyons National Conservation Area (MCNCA) Travel Map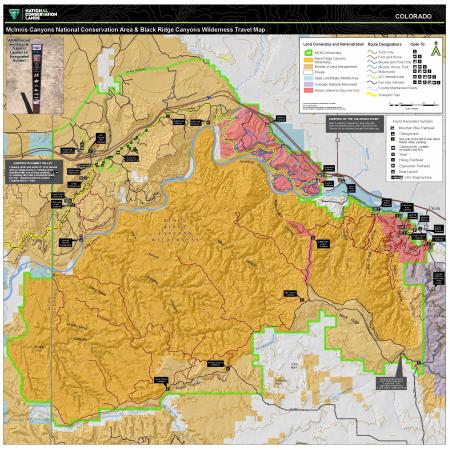 The 122,300-acre McInnis Canyons National Conservation Area (MCNCA), located west of Grand Junction, Colorado, is a collage of natural wonders featuring rugged sandstone canyons, natural arches, spires, and alcoves carved into the Colorado Plateau, through which runs a 24-mile stretch of the Colorado River. Included in the MCNCA are 75,550 acres of wilderness designated as the Black Ridge Canyons Wilderness (BRCW) with 5,200 acres extending into eastern Utah at the CCNCA's western boundary.

The MCNCA provides a range of travel opportunities, from trails managed for foot and horseback, bicycle, motorcycle or ATV, up to routes for full sized vehicles. These routes provide access to lands throughout the NCA. Travel within the Black Ridge Canyons Wilderness is limited to foot and horseback. The NCA has several recreation zones, each with an emphasis on different types of recreational experiences. The Rabbit valley zone is managed to provide opportunities for motorized travel. The Front Country zone has an emphasis on quiet use, travel is limited to foot and horse. The Mack Ridge zone provides world class mountain biking opportunities. There are two developed campgrounds within the NCA as well as opportunities for dispersed camping. The front country and Mack ridge zones are managed as day use only areas.
The travel map shows the network of designated routes in the MCNCA and the type of use each route is designated for. All motorized and bicycle travel is limited to designated routes.
Files
Publication Date
Thu, 06/29/2017
Organization
Collection: Public Room
Category: Map