BLM Arizona Oil and Gas Lease Sale Notice for Apache and Navajo Counties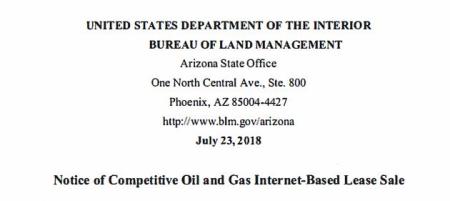 Notice of Competitive Oil and Gas Internet-Based Lease Sale 

In accordance with the Mineral Leasing Act, as amended by the National Defense Authorization Act for Fiscal year 2015 (Pub. L. 113-291; 128 Stat. 3762) (Dec. 19, 2014), and the BLM regulations at 43 CFR 3 I 20, the Bureau of Land Management (BLM) is offering three (3) parcels containing 4, IO I. 70 acres in the State of Arizona for internet-based competitive oil and gas leasing. This notice describes: 
•    The date, time and location of the sale
•    How to participate in the bidding process
•    The sale process
•    The conditions of the sale
•    How to file a noncompetitive offer after the sale
•    How to file a presale noncompetitive offer
•    How to file a protest
When: The sale date is September 6, 2018. The open bidding period will begin at 8 a.m. Arizona Time (Mountain Standard Time)/9 a.m. Mountain Daylight Time (MDT). Each parcel will have its own unique open bidding period, with start and stop times clearly identified on the auction website. The open bidding period for each parcel will run for two hours, from start to finish, and bids will only be accepted during a parcel's open bidding period. 
Where: The sale is held online at https://www.energynet.com/. Click the Government Lease Sales icon to view this online lease sale. Parcels may be viewed online at the EnergyNet website approximately 10 business days after the posting of this Notice of Competitive Lease Sale on the BLM website. lnformation on the sale parcels including a map is available at: http://www.blm.gov/arizona . 
Access: The auction website is open to the public. The internet-based lease sale can be observed in real-time. However, you must register as a bidder on the website, in order to submit bids for a parcel. The auction website will be active and available for use approximately 10 days after the date of this Notice of Competitive Lease Sale and will remain available for viewing until the completion of the auction. The available parcels listed in this Notice will be detailed on the website. Interested parties may visit the website at any time. Potential bidders may register for the online auction as soon as the auction website is active. Further, potential bidders are encouraged to visit the website prior to the start of the open bidding period to become familiar with the site and review the bidding tutorial. Supporting documentation is available on the website to familiarize new users to the process and answer frequently asked questions. 
Files
Publication Date
Mon, 07/23/2018
Organization
Collection: Public Room
Category: Lease Sale