Vegetation Projects Continue to Slow Wildfires in Utah
The Alkali Ridge Wildfire started July 12, 2020, from a power transmission line on private land in the Devil Canyon area between Monticello and Blanding, Utah. Flames first consumed grass and brush then moved into pinyon-juniper woodlands to the southeast.  The fire burned onto BLM lands impacting the Devil's Canyon fuels treatment, this slowed fire progression and firefighters were able to gain control. The fire burned 122 acres total, 11 acres of BLM and 111 of private. Initial attack resource response included engines, water-tenders, a helicopter, helitack crewmembers, fire modules, one hotshot crew, and overhead.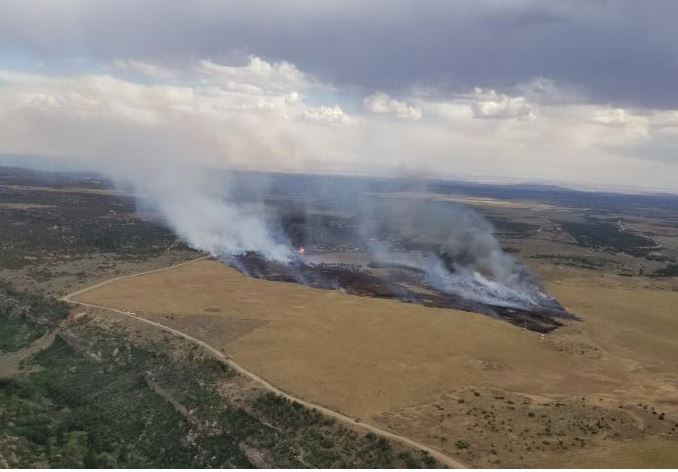 The Devil's Canyon fuels treatments consisted of multiple projects occurring from 2000- 2015 in pinyon-juniper woodlands. Initially the area was thinned and a masticator was used to mulch fuel down to a smaller size.  In other locations, crews collected branches, pinyon-juniper limbs and burned the fuels collected into piles.  Careful measures were taken during these treatments to not impact the area's Anasazi archeological resources, the ponderosa pine community, and the Wildland/Urban Interface.
When the Alkali Ridge Fire spotted from a crown fire in pinyon-juniper on private lands to the BLM fuels treatments, hand crews were easily and safely able to use direct attack and build handline within the area of masticated fuels. If the forward progression of the fire was not halted, fire would have moved into Devils Canyon, potentially impacting the ponderosa pine stands and archeological resources with undesirable consequences.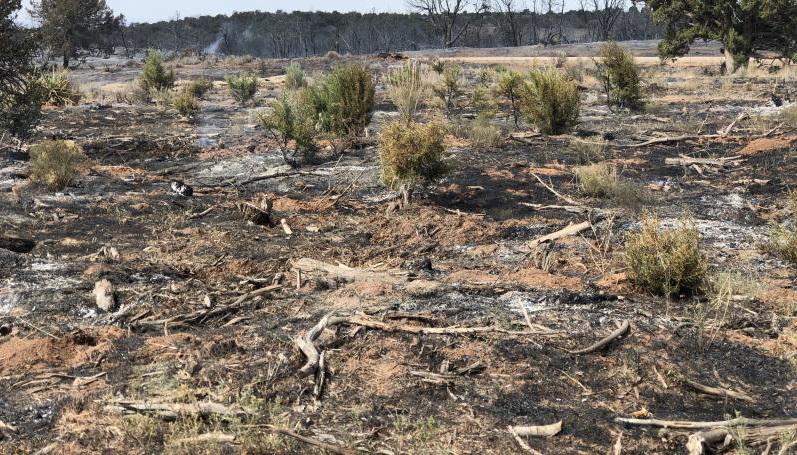 In discussions with resources on the Alkali Ridge Fire, the benefits from the Devil's Canyon fuels treatments were profound. Incident Commander, Shawn Denowh, Foreman of the fire module, said the head-fire almost instantly slowed down as flames hit the treatment area and the hotshot crew and helicopter were able to flank the head of the fire directly and safely. Both the IC and IC-trainee said it was fortunate the fuels treatment was there. The Alkali Ridge Fire would have been much more difficult to suppress as the fire was headed right towards rough canyonous terrain, inaccessible to engines. The engine crews were able to get hose-lays around the fire edge and several other spot-fires after the fire intensity died down in the treatment areas. Further discussions with resources on the Alkali Ridge Fire centered on how taking advantage of the decreased fire behavior in the treatment area enabled quick suppression. Additionally, cost savings were identified when two single engine airtankers and one air attack response was canceled due to control objectives being met much sooner than anticipated. Since 2002, when the first fuels treatment intersection was recorded, 82 intersections have been reported on the Canyon Country Fire Zone where wildfires have either burned into a fuels treatment or started in a fuels treatment and stayed small.