Floating the Colorado River: Community partnerships, education, and fun
Jeremy T. Dyer, BLM Utah Public Affairs Specialist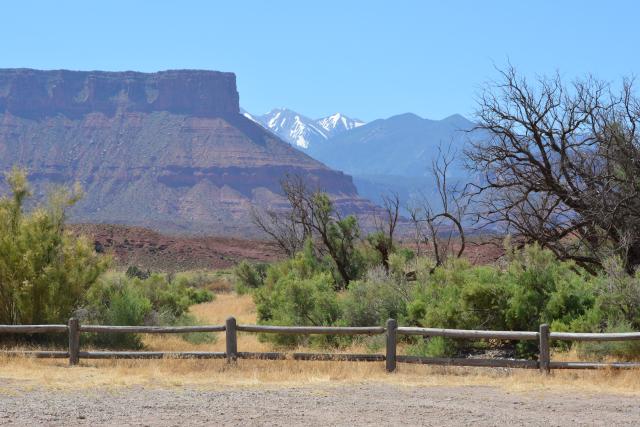 By Jeremy T. Dyer, Public Affairs Specialist
The Bureau of Land Management recently participated in two days of floating down the Colorado River near Moab, Utah. Park Rangers in the Moab Field Office periodically patrol the Colorado River with the focus on stopping at dispersed camp sites to ensure they are left clean and in good order.
"A lot of the portions of the rivers have permits or stipulations and river etiquette, so we are checking to see they are being met," said Matt Porebski, Bureau of Land Management Park Ranger Canyon Country District. "As the Bureau of Land Management Utah, we value our community partnerships and the opportunity to engage with them and teach about river safety, river etiquette, Leave No Trace, and Know Before You Go to all our visitors."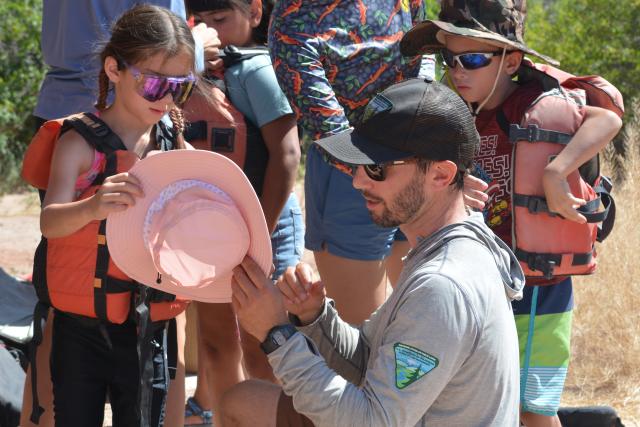 The first day was in coordination with OARS Canyonlands Rafting, the Canyonlands Natural History Association, and the Moab Valley Multicultural Center/Centro Multicultural. The mission of the center in the community is to provide a space for understanding and appreciation while broadening opportunities for those in their communities, especially those underrepresented and most in need. It focuses on education, family support, and community collaboration.
The June 28 daily float down the river provided adults and youth from the multicultural center the opportunity to experience the river and, for many, it was their first-time rafting.
"We have been doing this for many years and it means a lot, not only personally; it is my favorite day of year, because we come and enjoy," said Zaida Winn, Senior Staff and Translator at the Moab Valley Multicultural Center. "A lot of the people at the center wouldn't be able to do it [rafting trip] if it weren't for our coordination, partnerships."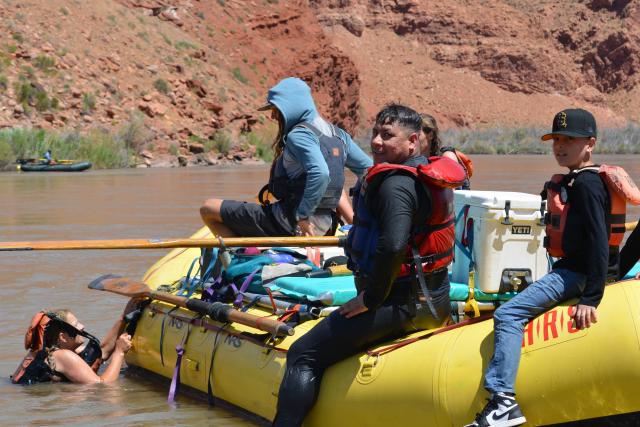 The Moab Valley Multicultural Center also works with many organizations in the community to help their programs thrive. The Canyonlands Natural History Association is one of those partnerships.
"We are a non-profit organization that supports the Bureau of Land Management, National Park Service, and the USDA Forest Service in their visitation and education efforts," said Noel Blanc, Social Media Specialist at the Canyonlands Natural History Association. Regarding the day's event with BLM Utah, OARS Rafting, MVMC, and themselves, she explained that it was all about getting first-time Moab locals out on the river.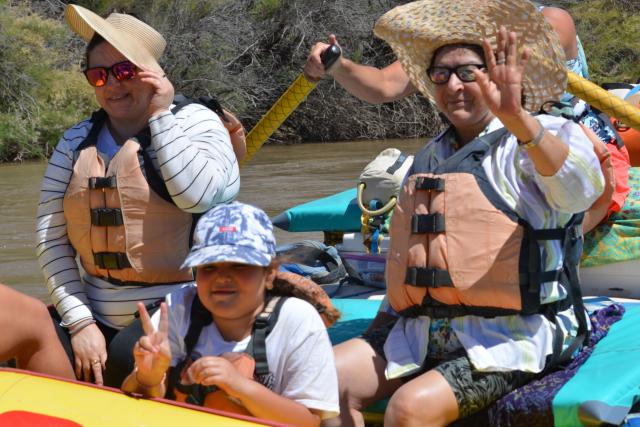 The second day, June 29, brought the Youth Garden Project, OARS Canyonlands Rafting, and the Bureau of Land Management together to float the Colorado River.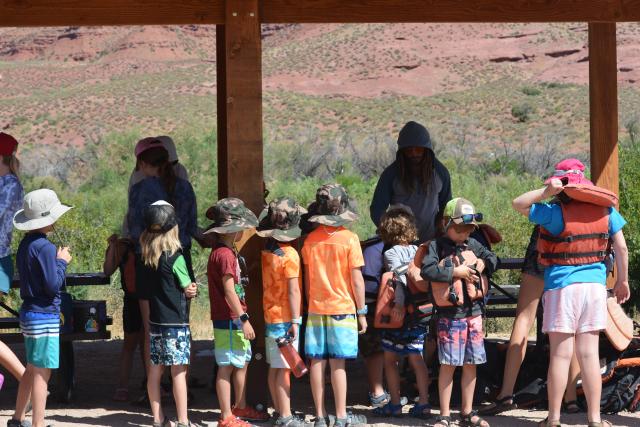 "We are out here today with the Youth Garden Project Summer Camp, part of our water week camp, trying to get the kids out on the river and teaching them about #LeaveNoTrace and the opportunity to explore the landscape out here because not everyone has the opportunity to do so," said Erin Vick, Youth Garden Project Summer Camp Counselor.
The Youth Garden Project aims to teach youth the importance of being good stewards of the land and water resources. They do this in partnership with community organizations.
"Each year, we do charity trips with foundations out on the river," aid Cam Yates, Daily Guide with OARS Canyonlands Rafting. "As a daily guide, it is important to me get to show young people this special place out here and teach the new generation about rafting and being a steward of our land."
Full Flickr Photo Album of both days can be found at this link: Floating the Colorado River - June 28-29,2023 | Flickr