Podcast: ANILCA at 40, part 1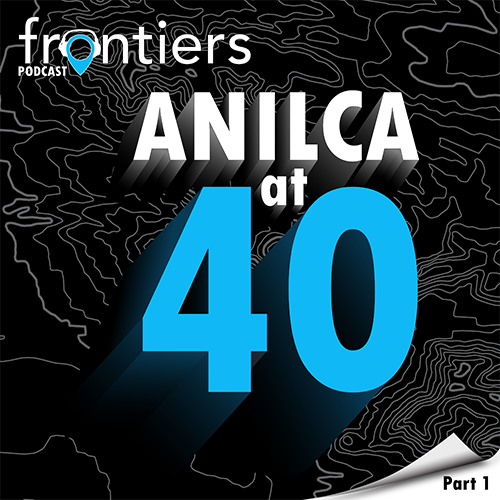 Transcript
[Jim Hart]: Welcome to the BLM Alaska Frontiers podcast. I'm Jim Hart. The Alaska National Interest Lands Conservation Act will be 40 years old, soon.
Signed into law by President Jimmy Carter, December 2nd, 1980, it's one of the most sweeping pieces of conservation legislation in history. But how does it affect federally managed lands in Alaska?
We spoke with leadership from each of the three land management agencies in the Department of the Interior in Alaska to find out how ANILCA affects each agency's mission. Between them, they manage 201 million acres of federal lands in Alaska, which is approximately the land surface area of the states of Texas and Pennsylvania combined.
Each agency has a separate mission focus, and all are governed by a multitude of other federal laws. How ANILCA warps and weaves through the federal regulatory fabric in Alaska makes each agency's mission in the state unique when compared to the Lower 48.
First, we spoke with Greg Siekaniec, the regional director for the Alaska Region of the U.S. Fish and Wildlife Service. Theirs is a mission of conservation, managing fish and wildlife for the American public, and part of that includes managing the National Wildlife Refuge System. So how does ANILCA affect the Fish and Wildlife Service? 
[Greg Siekaniec]: Wow, that's like the biggest question you could possibly ever ask. The Alaska National Interest Lands Conservation Act means to the U.S. Fish and Wildlife Service that we really have a guiding law or provisions that give us established purposes for each National Wildlife Refuge in Alaska. 
It has provided us, I think, with the sidebars and the guideposts of how we conduct our activities here in Alaska, how we relate to potential interests in development in, you know, roads and highways and activities that we know are going to come.
But I think it gave us a different standard — that we would have large conservation system units established here in Alaska that would represent the wildlife and the habitats of the state for generations yet to come. I think the refuge purposes speak to things that are yet untested.
You know, it gave our refuges this idea that "you would have sufficient water quality and quantity to meet the rest of the refuge purposes that you have." I can honestly look and say I don't know anywhere where that is perhaps been tested yet. So, this idea that it being a young law and has not really been tested in many ways just continues to show up in places. 
[Jim Hart]: ANILCA also had a tremendous impact on the National Park System, not just in Alaska. Joel Hard is the deputy regional director for Region 11 of the National Park Service, and he gave us a snapshot of how ANILCA affects their mission. 
[Joel Hard]:  ANILCA really did put an exclamation point on conservation and our purpose as an agency by doubling the size of the system nationally, it added ten new areas. You know, the largest national park was added by that legislation, 13.2 million acres. A new concept of preserves, 20 million acres. The highest protection for lands in the nation, wilderness, added 33 million acres. All of that together emphasized the importance of Alaska in its collection of land and the diversity of its intact ecosystems.
But at the same time, the compromises made clear there was a necessary pivot from what the National Park Service understood parks to be in the Lower 48 and what they needed to be in Alaska. And that really centered on recognizing people on the landscape, utilizing lands and resources in important ways to their culture, but also in consumptive ways, which was a was a new concept as well.
So this organization, which had been around that time, oh, pretty close to 64 years, or 65 years, changed the precedent, its history, and tradition to evolve, I think, to a better version of itself. And I think we've seen that play out to be true over the last 40 years.
[Jim Hart]: The Bureau of Land Management is a multiple-use agency best known for balancing mining, grazing, and energy production with maintaining public lands for present and future generations. Chad Padgett is a state director for BLM Alaska and he explains how Unthink has a profound effect on how BLM does its work. 
[Chad Padgett]: So for BLM Alaska, we have a multiple-use mission, and ANILCA fits very well within that mission as we try to balance the protection of resources and lands with development, infrastructure, and different projects across the landscape. BLM has 70 million acres of land in Alaska. And so it's a big landscape and lots of layers of things that BLM has to work within and amongst. 
ANILCA provided sufficient protection for the national interest and the scenic, natural, cultural, and environmental values on the public lands in Alaska. At the same time, it provides an adequate opportunity for satisfaction of the economic and social needs of the state of Alaska and its people. So within that framework, BLM has the opportunity to really balance responsible development and conservation. 
[Jim Hart]: That concludes this Frontier's podcast.
On the next installment, we'll find out what they think is important about ANILCA and what they believe folks should know about the law. Make sure you check out the BLM Alaska Facebook page and join us as we share in celebrating a ANILCA's anniversary.

The Frontiers podcast is a production of the BLM Alaska Office of Communications.