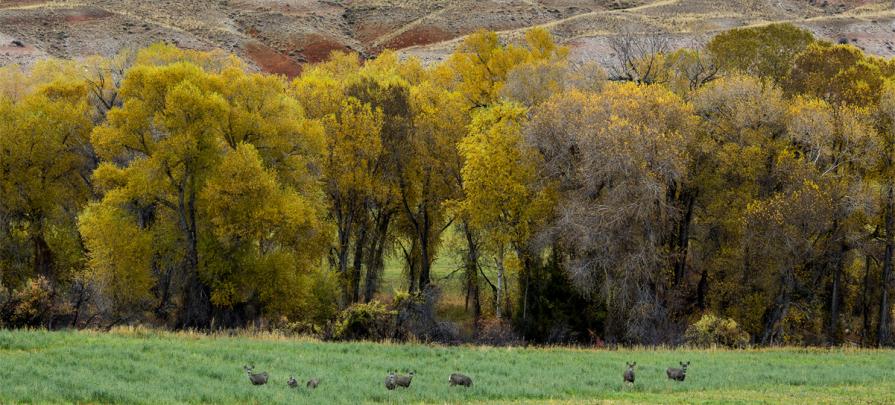 TRAPPER CREEK WILDERNESS STUDY AREA
Values
The Trapper Creek WSA encompasses 7,200 acres of BLM-administered public land with no private or state inholdings. Trapper Creek is one of the most spectacular canyons on the west slope of the Bighorns. It is characterized by the dramatic vertical relief of the cliffs, spires, and massive rock outcrops of the canyon walls, as well as the presence of a clear cascading stream. It contains important habitat for rare and endangered species such as bald eagles and peregrine falcons and is crucial winter range for elk and deer. The lower entrance to Great Expectations Cave (Great X) is located in the WSA. The elevation difference between the lower and upper entrances is 1,403 feet, making Great X the third-deepest cave in the United States.
Visitation Information
Routes within the Spanish Point Karst Area of Critical Environmental Concern (ACEC) have been closed to motorized use, otherwise, motorized use is limited to designated routes. Motorized use off of routes is strictly prohibited. Please abide by all posted regulations.
Visitor Advisory
Access to wild lands inherently requires good navigational skills and four-wheel drive or high-clearance vehicles. Visitors should be prepared for adverse weather and road conditions. The WSAs in the BLM Field Office are primarily accessed by unnamed or unsigned two-track roads that in many cases may be difficult to find without sufficient navigational skills and equipment.
Wilderness Study Areas
WSAs are undeveloped federal lands that retain their primeval character and influence, without permanent improvements or human habitation, and are managed so as not to impair their suitability for preservation as wilderness. Backcountry recreation is a common use along with Leave no Trace Outdoor ethics. Please be advised these areas are restricted and do not allow for the use of motorized and mechanized equipment.