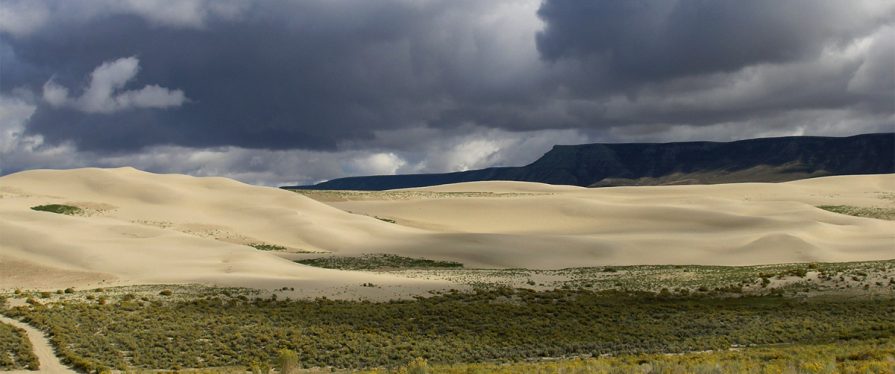 SAND DUNES WILDERNESS STUDY AREA
Values
Sand Dunes. There are large areas of barren active dunes with superb draws and valleys, wet meadows and interspersed greasewood, sagebrush and rabbitbrush communities. Recreation opportunities include hiking, bird-watching, hunting, sightseeing, and photography.
An ecologically unique feature of the WSA is the eolian ice cells that feed pools at the base of many large dunes. These are formed as snow and ice accumulate on the leeward side of the dunes and then are covered by blowing sand. These pools range in depth from a few inches to 10 feet deep. Some are crystal clear and almost devoid of life, while others are muddy, murky and alive with tadpoles, salamanders, insects, waterfowl and various grasses and algae. The dunes help support the only desert elk herd in Wyoming. In addition to elk, the area is also home to wild horses, mule deer, pronghorn antelope, raptors, and coyotes. The WSA is also close to two important archaeological sites: the Finley site and the Eden-Farson site where a distinctive projectile point gave evidence of one of man's earliest inhabited sites in North America. Part of the Sand Dunes WSA lies within the Greater Sand Dunes Recreation Area of Critical Environmental Concern, which provides wildlife and cultural resource protections and promotes appropriate recreation use.
Visitation Information
US Highway 191 north to the 10 mile marker. Turn east onto County 4-17 for 15 miles. Turn west onto the Tri-territory Short Loop Road for 1 mile to the UPRR railroad grade. The railroad grade serves as the boundary for both the Sand Dunes and Buffalo Hump WSAs. Motorized travel is expressly prohibited. Additionally, the WSA is closed to mineral entry, including gold panning.
Visitor Advisory
Access to wild lands inherently requires good navigational skills and four-wheel drive or high-clearance vehicles. Visitors should be prepared for adverse weather and road conditions. The WSAs in the BLM Field Office are primarily accessed by unnamed or unsigned two-track roads that in many cases may be difficult to find without sufficient navigational skills and equipment.
Wilderness Study Areas
WSAs are undeveloped federal lands that retain their primeval character and influence, without permanent improvements or human habitation, and are managed so as not to impair their suitability for preservation as wilderness. Backcountry recreation is a common use along with Leave no Trace Outdoor ethics. Please be advised these areas are restricted and do not allow for the use of motorized and mechanized equipment.