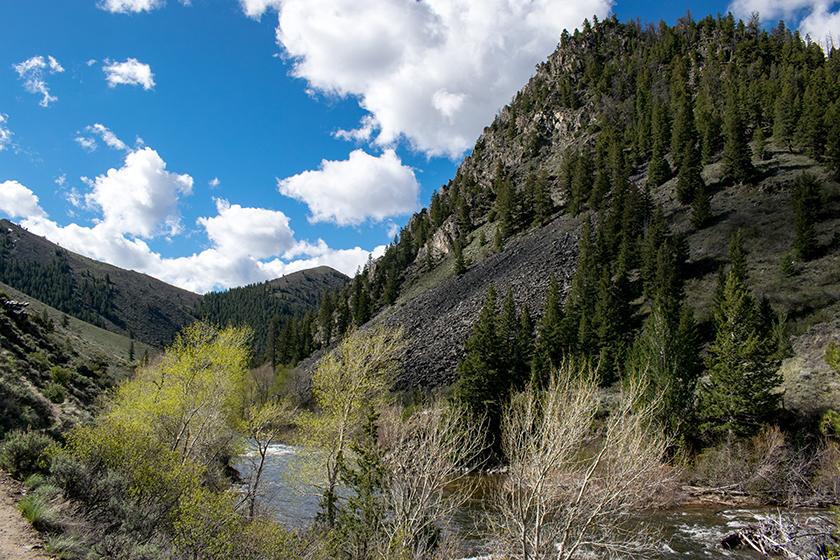 ENCAMPMENT RIVER CANYON WILDERNESS STUDY AREA
Values
The Encampment River Canyon WSA provides opportunities for experiencing some solitude, historical significance, and great recreational opportunities within its grasslands, riparian areas, and forested slopes. The deep canyons and high rocky ridges provide topographic and vegetative screening from high visitation, however the high accessibility of the area by vehicle doesn't allow for consistent solitude opportunities. Of special mention are the sites contained within the Encampment River Canyon that are associated with early exploration and mining activities of regional historical importance.
There are many recreational activities available in the area, including fishing, hunting, backpacking, hiking, horseback riding, wildlife viewing photography, camping, rock hounding and sightseeing. The Wyoming Game and Fish Department has classified the Encampment River as very good trout waters with statewide importance. The Encampment River Trail parallels the WSA and provides access to the entire length of the river. The trail is closed to motorized vehicle use year round, and the entire WSA is closed to motorized traffic in the winter for big game protection.
Visitation Information
The WSA is located two miles south of Encampment and easily accessible from BLM's Encampment River Campground. The trail is closed to motorized vehicle use year round. Motorized travel is expressly prohibited. Additionally, the WSA is closed to mineral entry, including gold panning.
Visitor Advisory
Access to wild lands inherently requires good navigational skills and four-wheel drive or high-clearance vehicles. Visitors should be prepared for adverse weather and road conditions. The WSAs in the BLM Field Office are primarily accessed by unnamed or unsigned two-track roads that in many cases may be difficult to find without sufficient navigational skills and equipment.
Wilderness Study Areas
WSAs are undeveloped federal lands that retain their primeval character and influence, without permanent improvements or human habitation, and are managed so as not to impair their suitability for preservation as wilderness. Backcountry recreation is a common use along with Leave no Trace Outdoor ethics. Please be advised these areas are restricted and do not allow for the use of motorized and mechanized equipment.