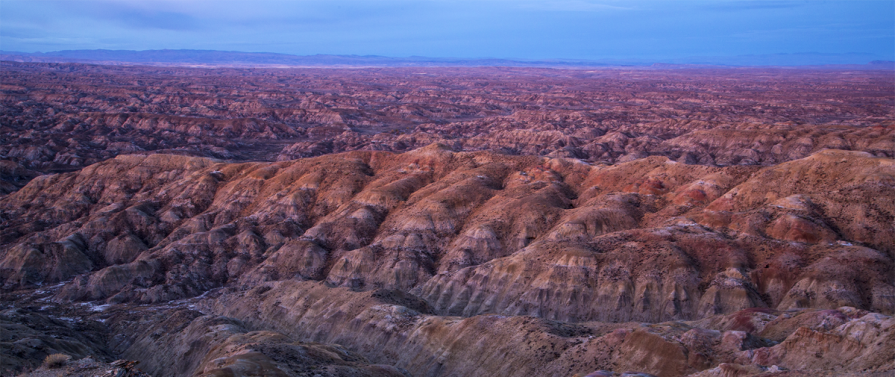 HONEYCOMBS WILDERNESS STUDY AREA
Values
The Honeycombs WSA encompasses 21,000 acres of BLM-administered land and 260 acres of split-estate land with minerals held by the state of Wyoming. The Honeycombs WSA consists of two land forms. The core area is comprised of sharply eroded, strongly dissected badlands. The area around the core is rolling to steep hills. Elevations in the WSA range from about 5,000 feet above sea level along the eastern boundary to about 4,400 feet where the western boundary crosses East Fork Nowater Creek.
Visitation Information
To access the eastern side of Honeycombs WSA, travel east from Worland on US Highway 16 for approximately 16 miles. Turn south (right) onto Blue Bank Road (BLM Road 1411 for about 3 miles. This road follows the eastern boundary for 4.75 miles and then splits off to the east and travels just over 1 mile parallel to the WSA. To reach Honeycombs WSA from the west, take US Highway 16 from Worland east for approximately 7 miles. Turn south (right) on Macaroni Road (BLM Road 1402) and follow for about 8.5 miles where it intersects with Mobile Road (BLM Road 1401). Turn east (left) on Mobile Road, in 6 miles you will reach the western boundary of WSA. Motorized travel is expressly prohibited. Additionally, the WSA is closed to mineral entry, including gold panning.
Visitor Advisory
Access to wild lands inherently requires good navigational skills and four-wheel drive or high-clearance vehicles. Visitors should be prepared for adverse weather and road conditions. The WSAs in the BLM Field Office are primarily accessed by unnamed or unsigned two-track roads that in many cases may be difficult to find without sufficient navigational skills and equipment.
Wilderness Study Areas
WSAs are undeveloped federal lands that retain their primeval character and influence, without permanent improvements or human habitation, and are managed so as not to impair their suitability for preservation as wilderness. Backcountry recreation is a common use along with Leave no Trace Outdoor ethics. Please be advised these areas are restricted and do not allow for the use of motorized and mechanized equipment.