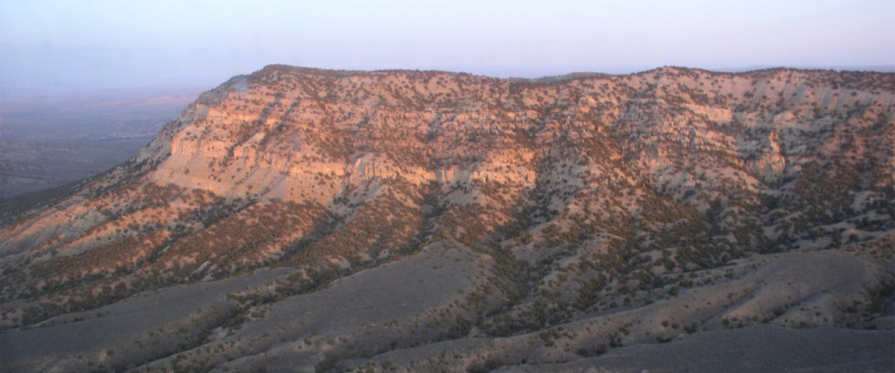 CEDAR MOUNTAIN WILDERNESS STUDY AREA
Values
The WSA provides opportunities for experiencing naturalness, solitude, and primitive and unconfined recreation. The WSA is an area of rugged topography characterized by deep, steep-sided drainages flowing toward the Bighorn River. Cedar Mountain is the dominant feature of the unit. Petrified wood and reptilian fossils are found in the Lance and Meeteetse formations in the southern end of the WSA. Mammalian fossils are found in the Fort Union Formation north of Cedar Mountain.
Visitation Information
To access to Cedar Mountain WSA from the north, from Worland travel on State Highway 432 for 7.7 miles. Turn south (left) onto Nieber Road (BLM Road 1405) and follow for 1.5 miles. At this point, Cedar Mountain Road (a primitive two-track route) branches off to the southwest. In 2.5 miles Cedar Mountain Road will reach the WSA and continues to follow the eastern boundary for approximately 4.5 miles. To reach Cedar Mountain WSA from the south, take US Highway 20/State Highway 789 from either Thermopolis or Worland. Turn east on Black Mountain Road (Co Rd 172) and travel approximately 1.6 miles. Turn north (left) on Cowboy Springs Road (Co Rd 23)and follow for 4.5 mil. Motorized travel is expressly prohibited. Additionally, the WSA is closed to mineral entry, including gold panning.
Visitor Advisory
Access to wild lands inherently requires good navigational skills and four-wheel drive or high-clearance vehicles. Visitors should be prepared for adverse weather and road conditions. The WSAs in the BLM Field Office are primarily accessed by unnamed or unsigned two-track roads that in many cases may be difficult to find without sufficient navigational skills and equipment.
Wilderness Study Areas
WSAs are undeveloped federal lands that retain their primeval character and influence, without permanent improvements or human habitation, and are managed so as not to impair their suitability for preservation as wilderness. Backcountry recreation is a common use along with Leave no Trace Outdoor ethics. Please be advised these areas are restricted and do not allow for the use of motorized and mechanized equipment.