December 29 update:  
Please remember that NO CAMPING is allowed below the rim in the area of the John Dunn Bridge and vehicles are not permitted to block access to the boat ramp. Parking at the rock barrier should be for cars only. The public is not permitted to occupy the John Dunn Bridge area below the rim between 10 p.m. and 6 a.m. which includes Manby and Black Rock Hot Springs. Manby Hotsprings in only accessible by a undeveloped trail from the bridge which requires route finding through boulder piles after the first 1/2 mile. 
Rio Grande del Norte National Monument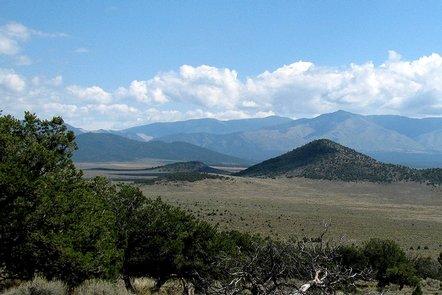 Address:
Taos Field Office Wild Rivers Visitor Center Cerro, NM 87519
Latitude/Longitude:
36.68080639, -105.6666667
Directions:
The RÍo Grande del Norte National Monument, Wild Rivers Visitor Center is located in Cerro, NM, at 1120 Cerro Road. Go north from Questa on NM 522 and turn left on State Road 378; the Visitor Center is about 17 miles from the turn off.
Rio Grande del Norte National Monument
The RÍo Grande del Norte National Monument is comprised of rugged, wide open plains at an average elevation of 7,000 feet, dotted by volcanic cones, and cut by steep canyons with rivers tucked away in their depths. The RÍo Grande carves an 800 foot deep gorge through layers of volcanic basalt flows and ash. Among the volcanic cones in the Monument, Ute Mountain is the highest, reaching to 10,093 feet.
This area has attracted human activity since prehistoric times. Evidence of ancient use is found throughout the area in the form of petroglyphs, prehistoric dwelling sites, and many other types of archaeological sites. More recent activity includes abandoned homesteading from the 1930s.
The Monument is an important area for wintering animals, and provides a corridor by which wildlife move between the two mountain ranges.
The unique setting of the Monument also provides a wealth of recreational opportunities. Whitewater rafting, hunting, fishing, hiking, mountain biking, and camping are some of the more outstanding activities that can be enjoyed in the Monument.
ADDITIONAL INFORMATION
Campfires – At Wild Rivers and Orilla Verde Recreation Areas, campfires are only allowed in grills or fire pans, and firewood collection is prohibited. Do not leave fires unattended. Campstoves are recommended throughout the National Monument.
Camping – Quiet hours are observed from 10:00 p.m. to 6:00 a.m.
Pets – Pets must be kept under control and on a leash at all times within developed recreation areas. Pets are not permitted on Big Arsenic Trail or in springs.
Fireworks – Discharge of fireworks is prohibited.
Firearms - Discharge of firearms is prohibited within one mile of a recreation site.
Litter – Separate receptacles for trash and aluminum cans are located at all developed campgrounds and picnic areas. Please do not litter.
Cultural Resources – Sites and artifacts dating back many centuries are located within the Monument. Removal or disturbance of these artifacts destroys valuable information about our past and is punishable by fines and/or imprisonment.
NEW MEXICO STATE TRUST LAND
Any public use of New Mexico State Trust Lands is strictly under the jurisdiction of the New Mexico State Land Office and requires a recreational access permit. 
For more information visit: www.nmstatelands.org