Dry Valley Off-Highway Vehicle Area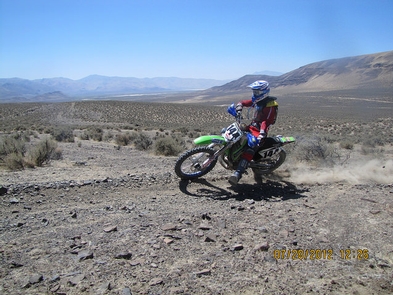 Address:
Bureau of Land Management Eagle Lake Field Office Susanville, CA 96130
Latitude/Longitude:
40.237097, -119.853638
Directions:
To reach the Dry Valley OHV area from Susanville, California take State Route 36 south to the stoplight at the junction of U.S. Highway 395, turn left and continue on U.S. 395 North about 15 miles to Wendel Road and turn right. Continue about 21 miles to the Nevada state line (the pavement ends and the road becomes High Rock Road). The Turn of the Road trailhead is located directly north of High Rock Road. To access the Mission Wells Trailhead, travel 12 more miles on High Rock Road and turn left onto Sand Pass, continue about .05 miles over the train tracks to Dry Valley Road on the left. Follow the signs to the trailhead.
Dry Valley Off-Highway Vehicle Area
The Dry Valley Off-Highway Vehicle Area is located in Washoe County, Nevada. The area is located east of Wendel, California and west of Reno, Nevada off of Sand Pass Road and High Rock Road. The roads and trails traverse a wide variety of terrain including flat, sandy, high desert sagebrush country to steep lava rock canyons. Most trails are difficult motorcycle trails.
Vehicle use is limited to designated routes. The designated roads and trails are signed as motorcycle, all-terrain vehicles (ATV), and 4WD use depending on width and terrain.
There are two developed trailheads; the Turn of the Road Trailhead is a small graveled parking area with visitor information, picnic tables, bbq's and loading Ramps. The Mission Wells trailhead has a maintained graveled entrance road and support facilities including a restroom, picnic tables, fire rings, bbq's and visitor information.
In addition to OHV use, Dry Valley is utilized by hikers, horseback riders, hunters and wildlife photographers. Visitors enjoy the beautiful vistas and canyons and good opportunities for viewing wildlife, wild horses and burros.
See more photos of the Dry Valley OHV area.
Operation and maintenance of the OHV area is provided by the BLM Eagle Lake Field Office and a partnership with the Great Basing Institute (GBI) through funds provided, in part, by the State of Nevada Recreation Trails Program (RTP).
For more riding and camping opportunities check out the Rice Canyon and Dry Valley Off-Highway Vehicle Areas managed by the BLM Eagle Lake and the Chappie-Shasta OHV Area managed by the BLM Redding Field Office.
REGISTRATION
All vehicles operated off-highway on public lands in California and Nevada are required to be (1) street-licensed or (2) registered as an off-highway vehicle (OHV).
Nevada recognizes other states registration of an off-highway vehicle, however; the vehicle cannot be located in Nevada for more then 15 days. 
Your California registration is valid in Nevada. If you are visiting California from another state and your vehicle does not have current registration from your home state, you must purchase a California Nonresident OHV Use Permit before you recreate on public lands. A title sticker or title plate is not registration. The Nonresident OHV Use Permit fee is $30. To locate a vendor, visit download the list on the California OHV website or click the link below.
For registration information specific to California and Nevada, please visit these links below.
HUNTING
Hunting is a popular sport throughout Dry Valley. Please share the area and watch for OHV riders when hunting in the area.
For more information regarding hunting visit the Nevada Department of Wildlife webpage.
SHOOTING
Target shooting is permitted within Dry Valley if occurring in a safe location. Shooting is prohibited within a quarter mile of any developed trailhead or over or across any road or trail. 
For more information regarding shooting in Nevada Click Here.