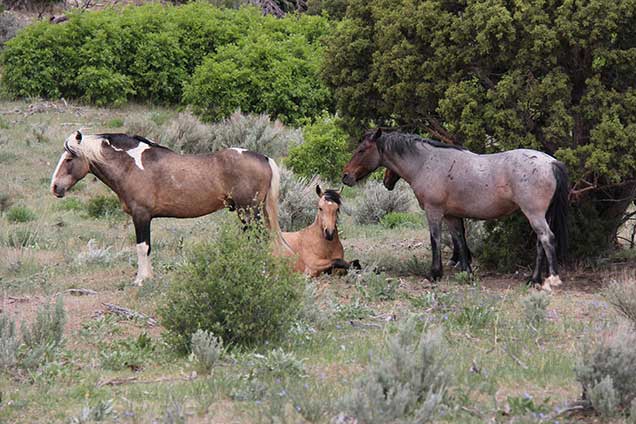 Little Book Cliffs Wild Horse Range
The Little Book Cliffs wild horses have a diversity of colors, band sizes and ages. Through the introduction of wild horses from other herds, the range of colors within the herd is exciting and photogenic. Horses include palominos, paints, grays, blacks, bays, sorrels, blue and red roans as well as a few appaloosas. In recent years, a curly was also introduced and has since foaled. Band sizes range from two to 10 horses. Due to high public visitation, the wild horses are less skittish than other horses, so photo opportunities are ideal.
Location: The Little Book Cliffs Wild Horse Range is located in northwest Colorado, about 8 miles northeast of Grand Junction.
Size: 36,113 acres
Topography/Vegetation: The wild horse area is characterized by four major canyon systems falling to gentle sloping plateaus covered in sagebrush and pinon juniper.
Wildlife: Elk, turkey, mule deer, desert bighorn sheep, chuckar partridge, gamble's quail, midget faded rattlesnake, snowshoe hare, mountain lion, bobcat, bear.
AML:  90-150