The Bureau of Land Management temporarily closes Case Mountain recreation area
BLM Office:
Bakersfield Field Office
Region:
California
Central California DO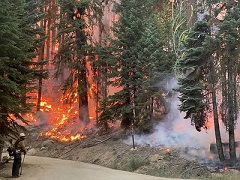 BAKERSFIELD, Calif. – The Bureau of Land Management Bakersfield Field Office has issued a temporary emergency closure of the Case Mountain Extensive Recreation Management Area near the town of Three Rivers in Tulare County due to the proximity of the Sequoia Complex Fire (SQF Complex). The closure is effective immediately and remains in effect until further notice.
The closure prohibits all forms of public access to the Case Mountain Extensive Recreation Management Area, which is comprised of 20,000 acres of public land located south of State Route 198 and supports the only BLM-managed giant sequoia groves. This closure is necessary to protect public land visitors from risks associated with active wildland fire and suppression operations, as well as post-fire suppression repair, emergency stabilization, and burned area rehabilitation efforts that will help repair damage to recreational and natural resources. The closure is also needed to protect wildland firefighters from recreational activities, including hunting of wild game. The closure order can be found online at https://go.usa.gov/xGX4q.
The SQF Complex Fire is comprised of the Castle and Shotgun fires, which has burned nearly 90,000 acres in the Sequoia and Inyo National Forests and is approximately 12 percent contained. The fire is being managed by a Type 1 Incident Command Team for the Sequoia National Forest. The latest information, including road closures and mandatory evacuation orders and warnings, is available at https://inciweb.nwcg.gov/incident/7048/ or follow #SQFComplex on social media. To sign up for daily updates, email sqfcomplex2020@gmail.com.
Outdoor recreationists are reminded that open flame of any kind is prohibited on all BLM-managed public lands in California. The BLM has also temporarily suspended target shooting on public lands in Central California and fire restrictions are in effect within the Bakersfield Field Office jurisdiction. An interactive map and listing of fire restrictions throughout BLM California is available at https://go.usa.gov/xmUEG.
For more information on the SQF Complex Fire, call 559-697-5148 from 8 a.m. to 8 p.m. For specific questions on the Case Mountain Extensive Recreation Management Area closure, please call 661-391-6000 during normal business hours.
---
The BLM manages more than 245 million acres of public land located primarily in 12 western states, including Alaska, on behalf of the American people. The BLM also administers 700 million acres of sub-surface mineral estate throughout the nation. Our mission is to sustain the health, diversity, and productivity of America's public lands for the use and enjoyment of present and future generations.