The Bureau of Land Management increases fire restrictions throughout California
Organization
Bureau of Land Management
BLM Office:
California State Office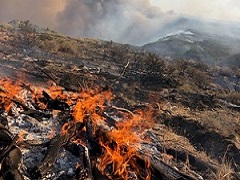 SACRAMENTO, Calif. – The Bureau of Land Management is increasing fire restrictions and prohibiting all uses of open flame including campfires, barbecues and stoves, on BLM-managed public lands in the state of California effective Sept. 8, due to high fire danger. These new restrictions are in addition to the year-round statewide fire prevention order and local fire and target shooting restrictions already in place.
The following restrictions will remain in place until the fire danger subsides:
No building, maintaining, attending, or using a campfire, charcoal BBQ, portable stoves, or open flame of any kind, including within established campground.
No smoking, except within an enclosed vehicle or building, or at a developed recreation site, or other designated areas.
No welding or operating acetylene or other torch with open flame.
No possession, discharge or use of fireworks, pyrotechnic or incendiary devices.
No shooting, igniting or causing to burn; explosives or explosive material, including binary explosive targets.
These restrictions do not prohibit hunting by individuals with a valid State of California hunting license and actively engaged in the legal take or pursuit of game and non-game species in accordance with current California hunting regulations. Hunting on BLM public lands is managed by the California Department of Fish and Wildlife. Please visit https://wildlife.ca.gov/hunting for more information.
This year, wildfires have burned more than 2.2 million acres across California. This is a record for the number of acres burned in the state, and the fire season has another four months to go.
With most of the state experiencing hot, dry, windy weather please use extreme caution. This has been an active wildland fire year with fires occurring in proximity to roadways, communities and recreational areas, posing considerable threat to public safety. Taking individual responsibility to reduce wildfire risk, while recreating on public lands, around homes and communities, before a fire occurs can help keep property, the public and firefighters safe.
Anyone found guilty of violating a fire prevention order may be fined not more than $100,000 and/or imprisonment for not more than 12 months. Restitution for total fire suppression and damage costs incurred may be borne by the trespasser.
An interactive map and listing of fire restrictions throughout BLM California are available at https://go.usa.gov/xmUEG. To learn how you can do your part to prevent wildland fires visit www.readyforwildfire.org.
---
The BLM manages more than 245 million acres of public land located primarily in 12 western states, including Alaska, on behalf of the American people. The BLM also administers 700 million acres of sub-surface mineral estate throughout the nation. Our mission is to sustain the health, diversity, and productivity of America's public lands for the use and enjoyment of present and future generations.