BLM Desert Advisory Council to meet in El Centro, April 3-4
BLM Office:
El Centro Field Office
Region:
California
California Desert DO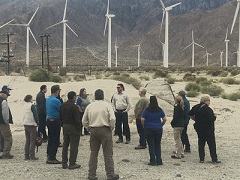 EL CENTRO, Calif. – The Bureau of Land Management (BLM) will hold a field tour and public meeting of the BLM California Desert District Advisory Council (DAC), consistent with BLM's commitment to partnerships and public input necessary for managing sustainable, working public lands. 
The Council will participate in a field tour of BLM-managed public lands on Friday, April 3, from 8 a.m. to approximately 4:30 p.m., leaving from the El Centro Field Office, located at 1661 South 4th Street, El Centro, and will meet in formal session on Saturday, April 4, from 9 a.m. to 4:30 p.m. at the Fairfield Inn & Suites, located at 503 E. Dananberg Drive, El Centro, CA 92243.    
The April 3 field tour includes visits to Hunter's Camp, the Milpitas Wilderness, and the Palo Verde Cultural site.  The Saturday public meeting will include agenda items on Dingell Act implementation activities, Desert Tortoise Management, Devil's Canyon access, and fire and fuels operations.  The meeting will also include updates from Council Members and the BLM California Desert District Manager, Andrew Archuleta.  Members of the public will have the opportunity to comment on agenda and non-agenda items.  Although the meeting is scheduled to conclude at 4:30 p.m., it could end earlier should the Council finish its business early. 
Advisory councils provide advice and recommendations for the BLM to consider for resource- and land- management issues within the agency.  Each citizen-based council consists of 10 to 15 members from diverse interests in local communities who assist in the development of committee recommendations that address public land management issues. 
The complete and final agenda for the April 3 public meeting will be posted on the BLM website at: https://www.blm.gov/get-involved/rac/california/california-desert-district.  The public is invited to participate in the Friday field tour but must provide their own lunch and four-wheel drive transportation.  Tour participants are encouraged to wear sunscreen, closed-toed shoes, a hat for sun protection, a loose/long sleeve shirt, and long pants to protect skin from the sun and brush. 

Written comments may be filed in advance of the April 4 public meeting and should be addressed to the Desert Advisory Council, c/o Bureau of Land Management, Public Affairs, 22835 Calle San Juan de Los Lagos, Moreno Valley, CA 92553.  Written comments will be accepted at the time of the meeting and, if copies are provided to the recorder, will be incorporated into the minutes.  For more information regarding the DAC field tour or meeting, contact Michelle Van Der Linden, at 951-697-5217, or by email at mvanderlinden@blm.gov.
---
The BLM manages more than 245 million acres of public land located primarily in 12 western states, including Alaska, on behalf of the American people. The BLM also administers 700 million acres of sub-surface mineral estate throughout the nation. Our mission is to sustain the health, diversity, and productivity of America's public lands for the use and enjoyment of present and future generations.