California Maps for Sale
Surface Management Maps
The dark word in the middle of each square is the name of the surface management map; please use this name when ordering your maps.  All map sales are final, no refunds or exchanges. Maps are $4.00 each.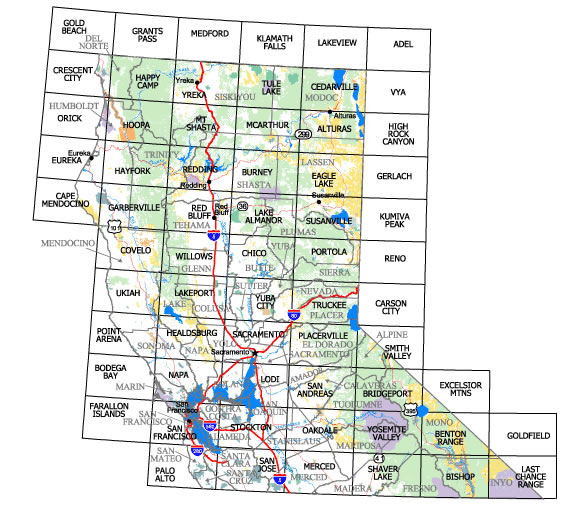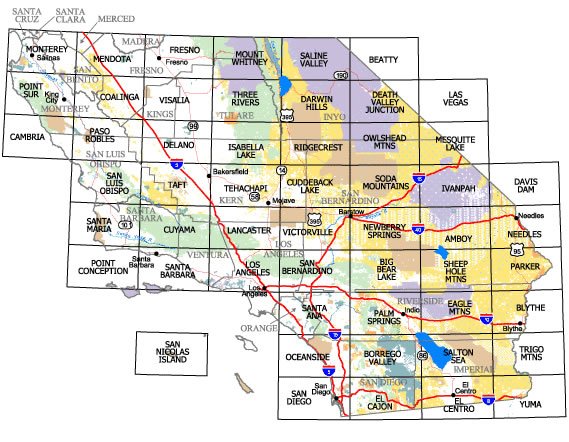 California State Wall Map (2016)
The California State map is a large wall size map (36" by 42") depicting land ownership patterns for the entire state. It is color-coded to display the many federally administered lands within the state. Scale is 1:1,200,000, Map is $10.00 each.
California Federal Wilderness Lands Wall Map (2014)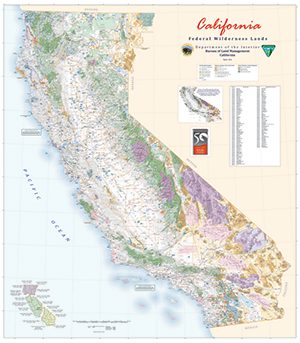 The California Federal Wilderness Lands Wall map is a large map that highlights federal wilderness lands. It is available in two sizes 54" by 62" and 42" x 54" and both are available folded or flat (rolled and shipped in a tube). Scale is 1:700,000. Maps are $10.00 each.
USGS 7.5' and 15' Topographic Maps
Land forms and topography are portrayed by contour lines, road lines, town names and symbols, and water. These maps do not indicate land ownership. Scale is 1:24,000 and 1:62,500. Maps are $7.00 each.
King Range National Conservation Area The Lost Coast Map
This map shows 80-miles of trails that span from the beach to the highest peaks and from old growth forests to windswept prairies. Some routes are very steep and strenuous. Map is $5.00 each.
Carrizo Plain National Monument Recreation Map & Guide
This map shows the location of roads and trails in the national monument along with campgrounds, historic and scenic areas, and the Goodwin Education Center. Map is $4.00 each.