Reynolds Pond Recreation Site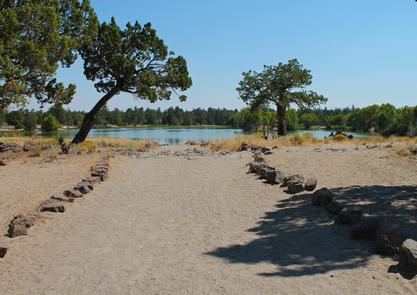 Address:
Prineville District Office 3050 N.E. 3rd St. Prineville, OR 97754
Latitude/Longitude:
44.059246, -121.016147
Directions:
From Bend, Oregon: Drive 14 miles east on Alfalfa Market Road. Turn right on Johnson Road just before the Alfalfa Market Store. At one mile, when the road turns sharply to the right, bear left toward the transfer station. Continue off of the pavement and follow the gravel road about 0.6 miles to the pond.
Fee Description:
No Fees.
Reynolds Pond Recreation Site
An oasis sits just east of Bend...a small 12-acre pond surrounded by old juniper and dusty trails. Tall willow and cattails offer a lush green vista in a sea of desert brown. Visitors can pass through to access the north side of the Oregon Badlands Wilderness or spend the day at the pond, enjoying the sunshine and fishing for sunfish, largemouth bass and brown bullheads. The .75 mile walking trail around the pond provides access to spots for picnicking and floating. Bring a tent and tuck yourself back amid the basalt rock for a primitive night of camping.
Know Before You Go:
Open YEAR ROUND.
The pond is not ADA accessible.
Open for primitive overnight camping. Amenities include limited trailer parking, but no potable water or restrooms. Campfires are allowed; fire restrictions may be in effect in the summer.
Pets should remain under owner control at all times.
Motorized boats are not permitted. Canoes, kayaks and float tubes are allowed but must be carried from the parking lot over a narrow bridge to the pond.
Point of Interest:
This pond was built to hold excess water from the Central Oregon Irrigation District canal system. It has been stocked for fishing and the state record reader sunfish was caught here at almost two pounds!
Reynolds Pond Brochure
Accessibility Description (ABA/ADA):
No accessible facilities are available.