North Fork Crooked Wild and Scenic River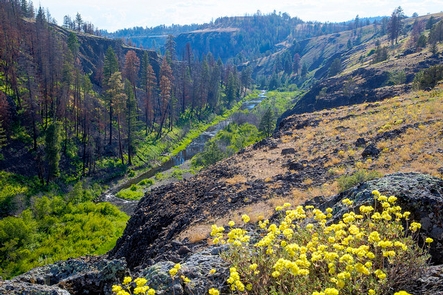 ADDRESS:
Prineville District Office 3050 NE 3rd Street Prineville, OR 97754
Latitude/Longitude:
44.20754, -120.14088
Directions:
Telephone Springs: From Prineville, Oregon, drive southeast for 35 miles on the Post-Paulina Highway (OR 380). Turn left on Teaters Road and proceed 1.4 miles to an unnamed gravel road on the left. Drive approximately 6.2 miles to the seasonal gate at Telephone Springs. From here, you can park and hike or take one of the rough spur ways towards the river.
Deep Creek Campground (Forest Service): From Prineville, Oregon: Head east on Highway 26 for 15 miles. Turn right onto County Road 123 and continue for 8 miles. Stay straight at the junction of Highway 123, Forest Service Road 22, and Forest Service Road 42 to merge onto Forest Service Road 42. Continue for 23 miles and Deep Creek Campground will be on your right.
GPS Coordinates: 44.327422, -120.075153
North Fork Crooked Wild and Scenic River
Overview:
A rocky and tough landscape characterizes the North Fork of the Crooked Wild and Scenic River. But despite the hard basalt of the river bedrock, the river continues to cut a path creating this wild canyon country. Scented ponderosa pines and solitude await those who make the trail-less hike to the riverside.
Know Before You Go:
No roads in the North Fork directly access the Crooked River on BLM lands; a hike-in is required.
A seasonally-open gate at Telephone Springs limits motorized use to the area annually from April 30 to December 1 to protect wildlife.
Check for local fire restrictions before building any campfire.
When recreating, practice Leave-No-Trace principles
Point of Interest:
Much of the North Fork Crooked Wild and Scenic River flows through a wilderness study area bearing the same name.
Accessibility Description (ABA/ADA):
No accessible facilities.